OSCAR STEWART REPORTS FROM CANJAM LONDON 2023
HiFi PiG's Headfi specialist Oscar Stewart visits CanJam London 2023 to bring you all the Headfi and Portable Audio you could want. If headphones, headphone amps, DACs, IEMs, portable music players, and desktop audio are your thing, then read on!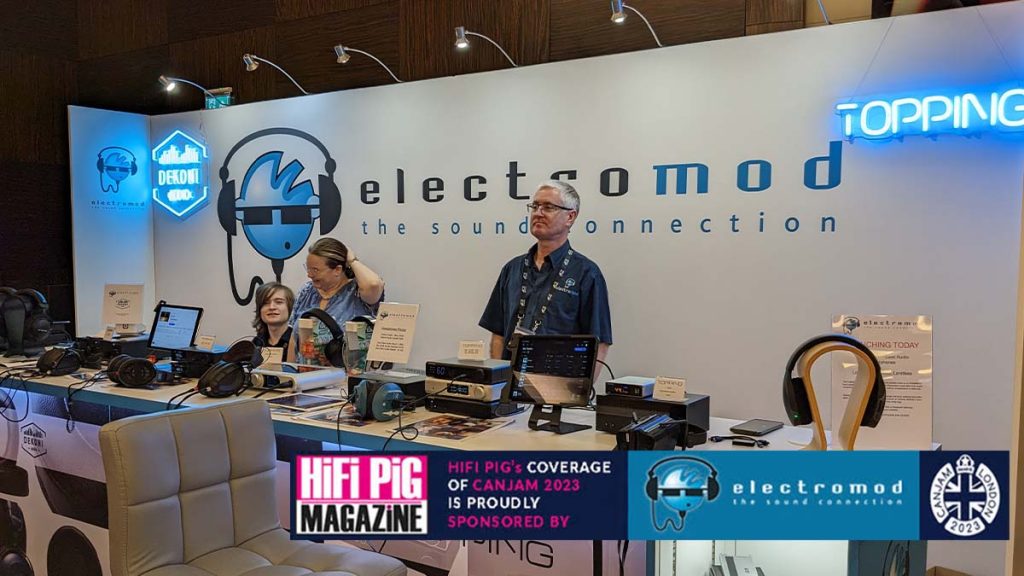 NO PART OF THIS ARTICLE MAY BE COPIED IN ANY FORM. THIS INCLUDES WORDS AND PHOTOGRAPHS WHICH ARE THE PROPERTY OF HiFi PiG AND BIG PIG MEDIA.
2-days, many many headphones later, here is my write up of THE biggest Headphone show in the UK. Organised by Head-Fi, Hifi PiG had the pleasure of being one of the main media partners – with our coverage  kindly sponsored by Electromod.
CANJAM GLOBAL
CanJam Global organise events all over the world with the aim of bringing head-fiers together, allowing manufacturers to show off their latest and greatest headphone creations. This show is a must for anyone looking to get into the world of headphones and IEMs, as it offers you a rare opportunity to listen to a huge range of the best setups on the market today, with wallet-friendly gear available too.

CANJAM LONDON 2023 REPORT
CanJam London is held at the Park Plaza hotel, in the heart of Westminster, just 10 minutes walk from Waterloo station. Opening at 10am, there was already a queue of around 30 people waiting to get in when I arrived at 9:45.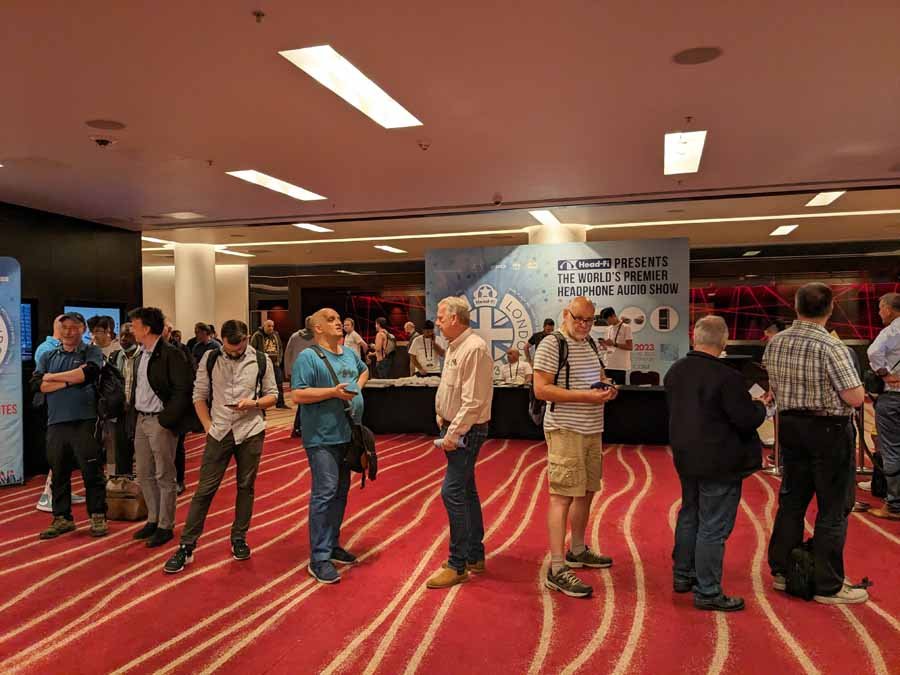 Getting stuck in I visited the Final booth where they had a prototype of their new X8000 headphone, weighing an astonishingly light 220g these use a brand new planar driver with a unique tracing pattern on the diaphragm. The earpads are silicone and the headband is designed not to have any padding, rumoured to be released towards the end of the year for around $6000 these are something to keep an eye on – sadly this was a display model and thus I was not able to have a listen.
They had their range of earphones on display too, including the A and B series.
64 Audio were next, and I finally managed to listen to their latest model, the U4s – a quad driver hybrid design with 3BAs and 1DD this model offers up a warm and punchy low end with a natural and detailed midrange and treble. These also come with the newest m12 apex module, which sits in between their m15 and mX modules, it helps control the low end a little compared to the m20 fitted as standard.
The U18s was also on my radar, being a fan of the original U18t, this is a true reference model but with their LID technology added. This means changing sources and cables influences the sound slightly less than the U18t. This is an earphone for those wanting to hear every detail in their music and is a very useful pro-audio tool.
Soundz are not a brand I had seen before, hailing from Greece they have made a name for themselves there making pro-audio custom in-ears, and are now looking to the audiophile community to grow their brand. I tried their Avant model which houses 10BA drivers and has a flatter, more clinical sound signature. These, along with other models, have a trick up their sleeve though, and feature a small switch on the faceplate that engages "immersive mode" bumping up the mid-bass a little for some added punch. There was a hint of upper mind-range emphasis but overall, a very clean-sounding earphone.
Their custom models feature 3D printed shells and a softer acrylic tip that aids with comfort, and the universal models were very comfortable too.
They then passed me the Flame, an 8BA based model that is a little more mid-forward with a smoothness to the sound that made them a little easier on the ear. These had quite a natural tonality and would be an excellent all-rounder if you find the Avant a little too clean.

Another new name on the scene is Canpur, also from a pro-audio background. They had quite a few models on show, from the €129 range right up to €3399, and I had a chance to listen to a couple.
First up I was given the Joyful 1 and 2 – a triple driver hybrid with 1DD and 2BA's, this model really impressed me from the get-go. Costing €149 these have an impressively punchy and engaging sound with excellent detail retrieval for their price. The fit was excellent, the bass was full and slightly emphasised but not bloated, and the midrange and treble are airy, this is a very good earphone at this price point.
Then the CP622B came out, this one is their flagship model costing £3399, and it houses 6BA's, 2BC's (bone conductor) and 2EST (electrostatic) drivers. Now, most brands use bone conductors for the low end, but in this model, they are used for the midrange, which allows the midrange to sound very clean and natural. The bass had brilliant depth and punch, there was no sibilance in the upper midrange and the treble was open and effortless. A fun and engaging yet well-balanced earphone with high levels of resolution and fine detail retrieval without sounding fatiguing.
Astell & Kern were showing off their range of DAPs which are always well received and always sound excellent, but they had a few earphones too.
The first being their new WW100 MKII which is another great-sounding true-wireless earphone with a full and punchy sound that's good for on-the-go use. This punchy sound didn't lack detail though and the fit and comfort were great. These would normally have an app that allows you to tailor the sound to your preference, out of the box in standard mode they were a little bass heavy and had a slight U shaped sound signature – I was however surprised at how full they sound for a single BA driver true wireless.
The Aura is an earphone made in collaboration with Vision Ears (VE) – featuring 9BA and 2DD drivers, this model is quite lively and upfront. It's punchy, engaging, and well controlled with great stereo imaging and tonality. A technically competent presentation that is far from being clinical and boring yet comes across as very well rounded.

Over on the Chord table I got to try the Anni and Qutest stack driving the LCD-5, this is a headphone I'm quite familiar with. The Chord setup powered them with ease and came across with an open and detailed sound that never sounded strained. It was effortless and smooth, and a very enjoyable setup for home listening.
RAAL make true ribbon headphones, their SR-1B having been out for a while still intrigues a lot of listeners with its open baffle design.
I got to listen to their newer CA-1a, an open back over-ear model with two different earpads for different tunings. Powered by an RME ADI-2 DAC, Ferrum OOR headphone amp and RAAL TI-1b interface these had an impressively open sound that was crystal clear and very vivid. These have a sound that seems very true to the source, and present it warts and all. This is more of an audio tool, that some people will appreciate whereas others will not. It's like taking a microscope to your music and almost forces you to analyse it – the softer earpads do however bring out a little more warmth from this headphone which makes them a little smoother and warmer.
Ultimate Ears need no introductions, they're big in the pro-audio world with their custom in-ears being used by some top tier musicians but it's always good to see them make some models that crossover into the audiophile crowd.
I had a listen to their new Premier model which has impressive resolution and utterly effortless detail retrieval, yet they had a slight warmth to their sound that made this an enjoyable listen. A very clean and accurate sound that wasn't trying too hard, and with 21 drivers, they don't have to. This was a lively yet true to source earphone that was very easy to enjoy.
Their famous Reference Remastered model is officially endorsed by Capitol Studios, and listening to them you can hear why. This is an excellent reference monitor, with a linear and balanced sound signature that doesn't fall into the "boring" category of neutral tunings. These are beautifully balanced and show that 3BA drivers can be all you need.

I booked myself a 15-minute listening slot with the Sennheiser HE-1 legendary headphones, as I heard them 7 years ago and haven't listened to them since. The system was using a DCS DAC into the HE-1's analogue input, streaming from Qobuz was provided. My thoughts from 7 years ago haven't changed much, I really appreciate the engineering and technology that has gone into this system however it really is only good for certain genres. Listen to well recorded jazz, acoustic, orchestral music, or anything a bit softer and they sound utterly captivating with such faithful timbre yet, put on something a little heavier and they just don't have the dynamic swing or punch to really engage you.
These are ruthless and will sound bad with poor recordings, yet sound wonderful with the right music. Whilst they may not be for me personally, they are no doubt an impressive headphone/system that you should demo if you get the opportunity to. I almost forgot to say that this system looks fantastic and has exceptional build quality and comfort.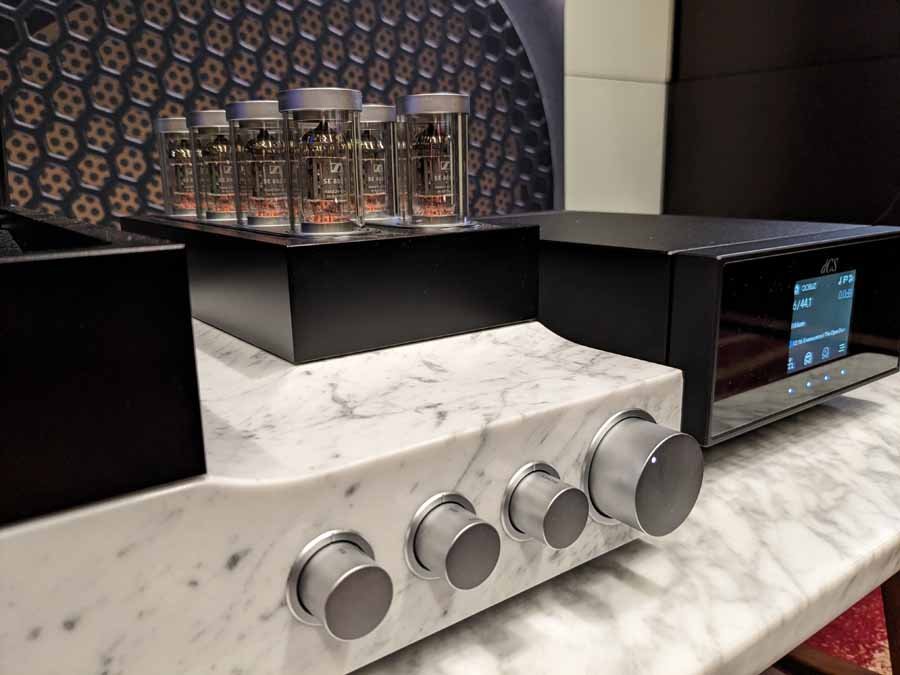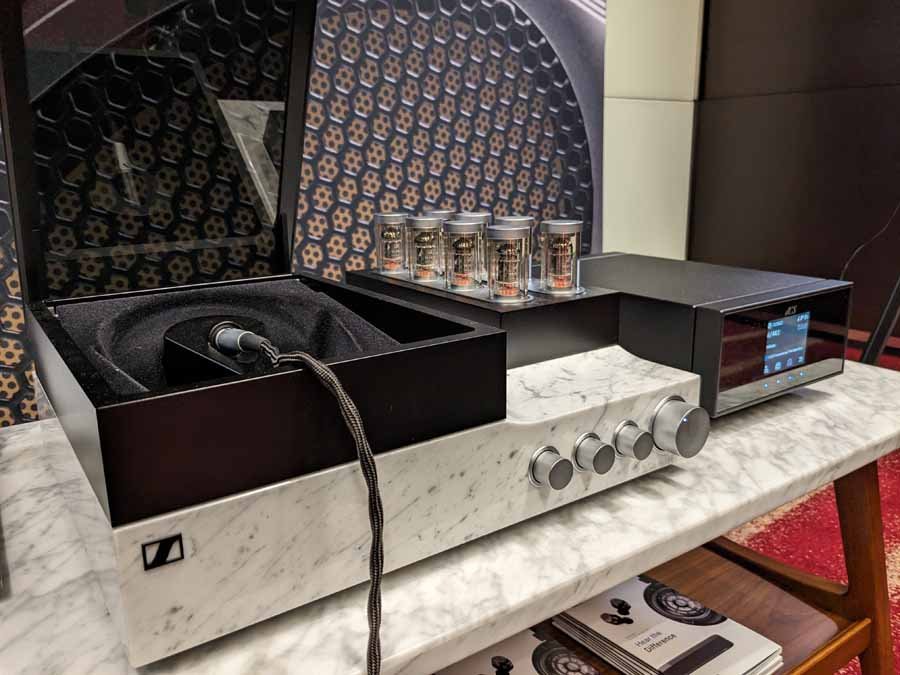 ZMF had a room to themselves, and there was a huge range of models and amps to test, I asked Zach what was new and worth listening to and he pointed me toward a new oval cupped closed back model they hope to release for under $1000. Using an 80Ohm driver that still scales with good amplification but is a little easier to drive than some other models.
The build quality was top notch as would be expected and they had a very full and warm sound with a sub-bass boost that was very enjoyable. The midrange still cut through with good clarity but these are tuned with fun in mind and would satisfy those who enjoy a bit more bass.
They also had a new amp on display that's almost ready to be released, it has a fully balanced design with a lovely VU meter on the front along with gain and impedance switches. This amp was made in collaboration with JDS Labs so you know it will have some solid design and measurements behind it. It seemed to do an excellent job at providing clean and usable power to the ZMF models on display, the price is reported to be $999.99.

Yamaha brought along a little isolated listening booth to show off their new YH-5000SE headphones, their first model in a long time. These were lightweight and comfortable with an articulate and punchy low end. They had quite a smooth and sweet sound that was very resolving and detailed at the same time, balancing warmth, and technicalities well. I do feel the Yamaha amp they were using held these back a little though.
Effect Audio are well known for making lovely IEM cables but, they do have an earphone too – Gaea – and as soon as I put them in, I was very impressed. These have a slightly lush but extremely well-controlled sound that is both dynamic and open. The midrange was slightly forward offering up an intimate vocal performance and the treble was airy and extended without sounding sharp. These were one of the biggest surprises of the show, and a highlight for me.
Vision Ears had a few models on show, the VE10 being their latest model with a single DD driver and 9BAs. These had a crisp and clean sound but with an impressive low end that had real impact to it when called for and effortless sub-bass extension. The overall balance is good, with a subtle bass lift and open soundstage – a fantastic earphone from this German brand and up there with the best.
Campfire Audio had their latest models on show, these included the Trifecta and Emerald Sea which I had to have a listen to.
I am a big fan of the original Andromeda and do feel the Emerald Sea should not be associated with that earphone. These are a much softer and smoother sounding earphone that have a very enjoyable sound but, one that is very different to the Andromeda. The Emerald Sea have a full low end followed by a smooth midrange and treble that makes them fatigue-free to listen to.
Trifecta are going to be a Marmite earphone; these are bombastic and pure fun. Campfire are not one to follow conventional tunings, and these really show what they are capable of. An odd triple DD setup that seems to work well in terms of epic bass punch and depth, slightly relaxed lower midrange, and overall enjoyable sound signature. Very dynamic and punchy, give these a listen if you want a fun-sounding earphone.
Focal / Naim shared a booth and had the latest revision of their famous Utopia, along with a few other models. I never personally got on with the original Utopia, finding it too bright and lean, and the low impedance meant it didn't work well with most tube amps. These fix my issues with the original and have a little more body, along with a slightly smoothed out treble, that offers up the same crystal-clear sound without fatigue. These really are a suitable flagship model for the brand and they sounded great out of the Naim Uniti Atom (Headphone edition).

Spirit Torino had a few models with them, I had a brief listen to the Valkyria but found them to be a little harsh in the treble, they have a very upfront sound that dynamic but would require careful system matching in my opinion.
Their new Twin Pulse IEM was something that looked a little different, the shape isn't what I would call ergonomic and the fit wasn't great for me. There are 3 different nozzles, however the standard was about right in terms of being punchy and engaging without being overly bright or dark. I feel if you can get a good fit and spend some time with these, the sound could really grow on you.
The Centauri sounded a little better from them, with a smoother more full-bodied sound but lacking a little when it came to technicalities. I think these would need to be judged in a quieter room to get the full experience.
Fiio came over from China for the show with a load of products to show off. I finally got to listen to the FT3, a high-impedance dynamic driver headphone at a reasonable price. These were running off the R7 streamer/amp and sounded great, very smooth with good impact and overall detail retrieval. These offer up fatigue free listening along with great build quality and comfort, and they would work well with tubes!
They had a prototype of their upcoming FT5 planar headphones, running off a K9 DAC/Amp – these sounded very promising. They had a slightly u-shaped sound signature with solid bass response, clean midrange and only a slightly subdued/hazy treble that was a little lacking in air and extension. They were lacking a little refinement, but I feel they have potential and hope to hear the production version when they're released.
There was also an unnamed dynamic driver prototype, another full-size headphone, that was incredibly lightweight and comfortable to wear. These are a budget model but had an impressive impact and a rich warm sound that was slightly addictive, Fiio seems to be making some good full-size headphones now and it's nice to see that.
HEDD are another German brand who were present at the show, bringing their HEDDPhone 2 along with them. Running off an RME ADI-2 DAC they had an incredibly fast sound in terms of transient response. They were so snappy with perfectly reproduced treble that was crisp and well extended, insightful midrange and punchy bass. These are effortless and don't sound too aggressive or in-your-face yet have an energetic and balanced sound – very fun for rock music and I hope to spend more time with a pair one day. They are very well built and have a new system that allows you to fine-tune the clamping force which is cool, they are also lighter and more comfortable than the original model.

Noble really wanted me to try almost all their models, but I really didn't have the time to unfortunately.
I started with the Ronin at $3900, these have the signature Noble sound with big fun bass but in a controlled way that doesn't impact the mids and treble. Very articulate, impactful, and punchy with good technicalities too.
The Sparticus is like a baby Ronin, at $2800 they are not quite as technical but still offer up a supremely fun sound that's full and warm without sacrificing detail. I quite enjoyed these for a more engaging sounding model.
Then I got to listen to their Ragnar model which has a more reference tuning, these were incredible. A very dynamic and articulate bass response with an open and clean midrange. The tonality was accurate but I did find the treble to be a tiny bit exaggerated, yet it was very refined, only sounding a little harsh with poor recordings. This flagship model is sadly sold out, but it is mightily impressive.
Last but not least Jim handed me the Stage 3, a $600 2BA/1DD hybrid model. This had a bit of a v-shaped sound signature that was all about big bass and sparkly treble. A great earphone for on-the-go use where you want something a little punchier, yet with good separation and detail too.
SCV Distribution were showing off various models from Meze, Manley Labs and EarMen. I sat down and listened to the Manley Absolute headphone amp and the Meze Empyrean, a headphone I do thoroughly enjoy. This was one of those setups where you could just sit and listen for hours on end, with just the right amount of warmth to take the edge of harsher sounds without impacting on the vast sound staging capabilities of the Empyrean. The amp also features EQ knobs so you can tune the sound to your liking somewhat.

Audeze were hard to miss with a stage right at the entrance. The MM-100 didn't impress me much, they just sounded a little flat and boring, lacking dynamics and punch. The midrange wasn't bad, but overall, I wasn't hugely impressed by these.
The MM-500 on the other hand were excellent, tuned with a more studio reference sound but without coming across boring. There was scale to the sound, the dynamics that were missing on the MM-100 were clearly there on the MM-500. These are a good all-rounder that sounded great with various genres.
The Empire Ears Raven were a must listen for most at the show, this is the follow-up model to their Odin and a model that a lot of people have been excited for. The have a lifelike sound that is incredibly accurate yet doesn't fall into the clinical camp, with a subtle warmth seeping through that makes them pleasant and not grating. Smooth effortless treble, natural mids and punchy bass come together to create a very realistic and complete sound – very nicely done.

Electromod had the new Violectric Chronos DAC/Amp dongle which was a nice little device, (they have just announced that they are the new UK distributor for Violectric) this drove the Dekoni Cobalt with ease and had a slight hint of smoothness to it that made listening enjoyable. Perfect for on-the-go listening, it provided clean power that wasn't too analytical.
The Topping A90 Discrete is a great headphone amp, pumping out enough power to drive most headphones on the market with ease. I have found over time that Topping amps have become slightly less clinical and now have a slight sweetness to their sound that makes them even more compelling than previously. It's not overly coloured though, and is a superb headphone amp, definitely worth an audition.
The DX9 is an upcoming DAC/Amp combo with a spacious sound and gorgeous build quality. The sound is linear but not clinical and I'm really looking forward to this device coming out.
Elysian Audio had two models on display, Diva and Annihilator. The Diva had quite a nice even sound signature with a hint of warmth, well balanced and controlled I quite liked their presentation. There is a dial on the earphone which allows you to increase or decrease the bass quantity, this is something I didn't feel needed changing from the middle (default) setting.
Annihilator is their flagship model and has a full sound with increased punch and rumble, there was more detail and resolution but the overall sound was also a little thicker. On a totally personal note, I did slightly prefer the more controlled sound of the Diva.
Ifi Audio had their new iCAN Phantom out so I had to have a listen, as I'm hoping to be able to write a full review of this model soon. Paired with the HiFiMAN Shangri-La Jr it was effortless in terms of drive, control, and detail. The iCAN Phantom is hugely flexible driving sensitive IEMs right up to power-hungry planars and electrostats, all from one single headphone amp. There are tube modes, and various gain and voltage settings too, allowing you to fine-tune the sound to your taste. Solid state mode sounds the snappiest, with a crisp and clean presentation, Tube and Tube+ add a little tube sweetness without any loss of resolution, very impressive!

Hifonix had a ton of gear on show so it was hard to decide what to listen to. The Cayin N30LE was my first stop and this new DAP easily drove the Audeze LCD-5 that were paired with it. This is an impressive feat from a portable player, and it sounded utterly natural and dynamic without a hint of strain. It has a user-friendly interface and does have a tube mode, sadly this wasn't working at the show.
The Lotoo Mjolnir was next to the Cayin and had a pair of Focal Utopia paired with it, this is a transportable setup that is quite large but acts as an all-in-one source, DAC and Amp. This sounded excellent with the Utopia offering up a dynamic and full sound that was impressive levels of detail and a spacious sound stage.
Something I hadn't seen or heard of before was the Camerton Binom-ER planar headphones, paired with the Kallyste Amethyste headphone amp/pre-amp. The build quality of both products is superb, but the sound really did impress. A transparent yet warm sounding headphone with intimate and natural vocals and stings that really cut through and grab your attention.
DCS had their full Lina setup paired with the Abyss AB-1266 PHI TC – I was a little underwhelmed to be honest. The Abyss are normally very punchy and energetic and sounded a little flat on this setup, they were quite neutral with good tonality but this isn't the best I've heard them.
Moving to the DCS Bartok Apex DAC into the Lina headphone amp paired with the HiFiMAN Susvara on the other hand was mind blowing. This was my favourite setup of the show, one that excellent in timbre, realism, and dynamics. Whatever I played sounded superb, this system didn't falter, it just kept on giving me a believable and realistic sound that was sublime. I did glance over at my partner whilst listening to this setup, and she said I looked like a kid in a candy store, I was that impressed. Also, James from DCS appreciated my music choices, ranging from James Bay to Lorna Shore, Spiritbox and Polyphia.
HiFiMAN had their new-ish Arya Organic on show, paired with their EF400 DAC/amp, these were quite a sweet and smooth sounding headphone with a wide soundstage. These were quite open and detailed yet retained a certain natural tone that made them sound very pleasant – a good contender for an open, spacious, and detailed all-rounder.

Questyle had a prototype of the upcoming M18 Portable, sadly this was just for reference and I wasn't allowed to listen – it does however look well-built and has some very interesting features. These include a built-in battery, 4.4mm balanced input/output, AKM DAC chip and Cirrus Logic ADC for analogue to digital conversion, more details will follow.
I did have a quick listen to the M15 dongle though which had a very clean and neutral sound and a fair bit of power, driving the Focal Elear with ease.
The Elise audio stand was huge, they took up quite a few tables and had a huge range of earphones and headphones.
Most interesting was to see Mass Kobo being represented, with the amp builder himself present at the show. The 465-000 headphone amp paired with the HiFiMAN Susvara didn't give quite as natural a sound as the DCS setup, but it did have a ton of drive and power to get the best out of this incredible headphone. Snappy transients and a full sound, the Mass Kobo amp really was quite something.
I also took the time to listen to the Fir Audio Radon 6 which had a neutral-ish sound. They came across as very well controlled and detailed, the treble was very precise yet never harsh or bright and there was enough punch to keep things interesting. Perfect if you like a clean and clear sound signature.

ICE Lab / Flash Acoustics are not a brand I have come across, they come from Hong Kong and had a 5BA based earphone with them, the Prismatica. These had a bit of mid-bass emphasis bringing out some added punch to the sound, with good clarity across the board. These are tuned to work best with wide bore tips and did provide a very engaging listening experience.
NightJar Acoustics mostly make cables but they had a new earphone called Singularity with them. This is a single dynamic driver earphone that was truly great, single drivers have a unique sense of cohesion that multiple drivers struggle to match. Singularity was a pure joy to listen to with exceptional extension on both ends and super punchy bass, this is a very well-tuned single driver earphone.
Symphonium were exhibiting next to NightJar Acoustics and had their new model Crimson with them. This has an unknown driver configuration (it's a secret for now apparently), and sounded quite linear with a little helping of extra warmth. Technically these were up there with the best in show, with an impressive amount of detail and resolution, accuracy and tonality were also excellent.
QDC are quite big in China, with a huge range of custom and universal fit earphones. The Anole V14 is the model I tested and after a brief interval (I managed to get an eartip stuck in my canal) I got stuck in. After a lot of models that have a slightly warm and fun sound signature, the Anole V14 were a breath of fresh air in a way. They may come across as slightly boring to some, but I quite enjoyed this flatter, linear, and more balanced sound with a slight sub-bass lift. These have DIP switches with various sound profiles, allowing you to fine-tune the sound to your preference, I quite liked them flat though.
Last but not least I found myself at the Sennheiser table, not a brand to miss at any show. I had a brief listen to the HD660 S2 at the Bristol show but got a chance to hear them better here. They are a little warmer and smoother than the original HD660s but they still retain a good level of detail. They are very comfortable, easy to listen to and all the headphone many listeners would need.
The IE600 were to me, a little disappointing, with an overly smooth slightly boring sound signature. Whilst this isn't always a bad thing, and often those models that don't wow work well long term, I was expecting a bit more of a dynamic sound. They were technically quite unremarkable, but I guess that does make them very easy to listen to and live with.
The IE200 on the other hand are great value for money, coming in at £129.99 they're well built and have a punchy and fun sound with a detailed midrange and smooth treble. Fatigue free and smooth, this is a superb entry-level for those new to the world of earphones.
So that's it for another year – I tried to cover as much as possible over the two days whilst still enjoying the atmosphere and catching up with some familiar faces. plus taking part in the show discussion panel. I hope to see you all there in 2024!
Oscar Stewart
NO PART OF THIS ARTICLE MAY BE COPIED IN ANY FORM. THIS INCLUDES WORDS AND PHOTOGRAPHS WHICH ARE THE PROPERTY OF HiFi PiG AND BIG PIG MEDIA.