INFIGO AUDIO METHOD 6 STEREO AMPLIFIER LAUNCHED BY THE CANADIAN COMPANY
Two-Channel Method 6 is Based on Infigo Audio's Method 3 Monoblock.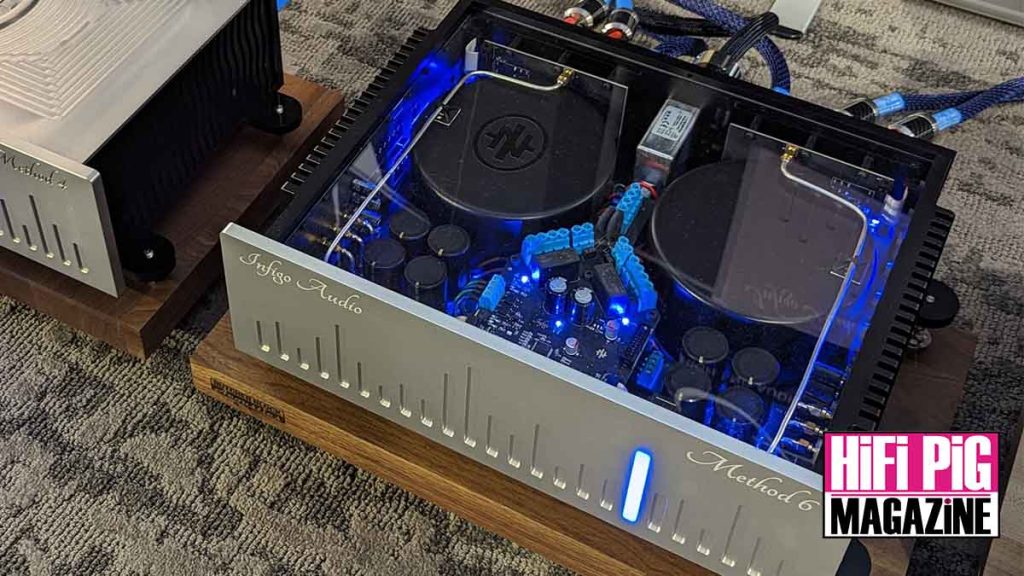 Infigo Audio, a Canadian company that designs and manufactures amplifiers, DACs, and cables has released he Infigo Audio Method 6 two-channel amplifier, which made its debut at AXPONA.
INFIGO AUDIO METHOD 6 STEREO AMPLIFIER
Featuring many of the same attributes as the acclaimed Method 3 monoblock amplifier, the new Method 6 features a Class A architecture, but with a unique design that maintains a low temperature that is not typical of Class A amplifiers.
CLASS A, BUT COOL
"Class A is the standard for the most powerful and sonically pleasing amplifiers, but sometimes the electronics are so hot they can heat a room," says Hans Looman, CEO, Infigo Audio, Inc. "We managed to solve this problem by developing Low Temperature Class A, which features multiple, smaller, cleverly biased output devices instead of the more common practice of incorporating fewer and larger devices. By doing so, we spread the heat over a larger area without a heavy concentration that often results in electronics that are too hot to touch."
LOW TEMPERATURE CLASS A
Low Temperature Class A is notable for the elimination of cross-over distortion, with fast transient response. Thanks to this the amplifier stays cool to the touch. Over time, Low Temperature Class A's lower operating temperature maximizes the life of the amplifier, says Infigo Audio.
INFIGO AUDIO METHOD 6 DC BIAS ADJUSTMENT
A highlight of Infigo Audio amplifiers is the company's DCBA™ system. DCBA, or DC Bias Adjustment, balances output DC level without limiting low frequency output. Infigo says: "Bass response is tight, powerful, with elimination of phase distortion at lower frequencies thanks to the removal of capacitors in the audio path. The low frequency range extends down to 0 Hz, with a separate protection circuit that disconnects the speakers when the DC level in the input signal reaches too high a level".
INFIGO AUDIO METHOD 6 STEREO AMPLIFIER SPECIFICATIONS
It is available in silver and black, and, like all Infigo electronics, the solid top is removable, affording a view of the internal circuitry that is protected by a transparent cover.
The distinctive industrial design of the Method 6, which stands 6"H 16.5" W at the bottom 18" W 13" D. Power handling is rated at 2 x 100W in 8 Ohms, bandwidth is 0 Hz – 200 kHz (-3 dB), 26dB gain, sensitivity is 2V for maximum output, and voltage is rated at 120VAC / 240VAC selectable, 50/60 Hz.
INFIGO AUDIO METHOD 6 PRICE
The Infigo Audio Method 6 Stereo Amplifier retails at $20,000 USD
HiFi PiG Says: We very much enjoyed experiencing Infigo Audio at AXPONA and love the look and sound of their amplifiers!