HIFI PIG RETURNS TO THE FANTASTIC DUTCH AUDIO EVENT HELD IN EINDHOVEN, THE NETHERLANDS
The Dutch Audio Event, previously known as XFi is held annually in Eindhoven, the Netherlands. Because of Covid restrictions, HiFi Pig last attended in 2019, so we were very excited about returning for the 2022 Show.
All photos and content are copyright of HiFi Pig and Big Pig Media and may not be reproduced without the prior written consent of the owners.
The show is organised by Caspar Bunge, of HiFi distributor XFI High End Audio Imports and HiFi shop Audio-Life, and Dutch audio magazine HiFi.nl.
DUTCH AUDIO EVENT 2022
Caspar and the team have done an exceptional job this year with the show being well organised, packed with brilliant exhibitors and very, very popular with the public.
Caspar told us that they saw 4900 visitors through the doors over the weekend, with more young people again this year, a lot of international visitors, and more couples, families, and women at the show than ever before.
INTERNATIONAL HIFI BRANDS
The show was very busy, but the layout meant it felt comfortable and the atmosphere was relaxed and fun with visitors also enjoying more lectures and live music than ever before. Over three hundred HiFi brands were represented at the show with a great mix of Benelux and local Dutch brands and big international names. British HiFi was well represented and very popular. We saw many friends that we know from HiFi brands from around the world including Denmark, Germany, and Italy.
Caspar says that the show was "the best edition ever" and that the feedback he had from the exhibitors in the seventy-plus rooms was incredibly positive and they were very happy with how the show went.

Now read on and enjoy the Dutch Audio Event 2022 Show Report and pictures from Stuart and Linette Smith and with more to follow from Eric van Spelde.
This is the second time we have been to the Dutch Audio Event and it's a show we looked forward to visiting again after its forced hiatus over lockdown, though it did take place in 2021. The 2022 Dutch Audio Event ook place the weekend of 8th and 9th October near Eindhoven in the Netherlands, though we decided to fly into Amsterdam and break the journey up a little.
The NH hotel where the Dutch Audio Event takes place is an old nunnery and is huge, though I'd forgotten just how huge. I suppose I should have remembered more quickly when we booked into the hotel and were given a sherpa to accompany us to our room. Basecamp for Team HiFi Pig was a fair old trek from the "zone" that homes reception, restaurant (more vegan choice, please…again), and bar but in fact, this trek put us immediately above the main entrance to the event and as such was a great place from which to base our weekend of HiFi expeditioning.

Every person that comes to the show gets a very nicely produced 76-page glossy A4 show guide that has a clear and easy-to-follow map of the show, along with the exhibitors.
STEINWAY LYNGDORF
Steinway and Lyngdorf had the very first room you come to in the show. This was a beautifully set out room with a huge speaker array at the front with 20 small drivers, 40 tweeters, and 4 sub drivers PER SIDE! For whatever reason I expected this to sound awful, but it certainly didn't.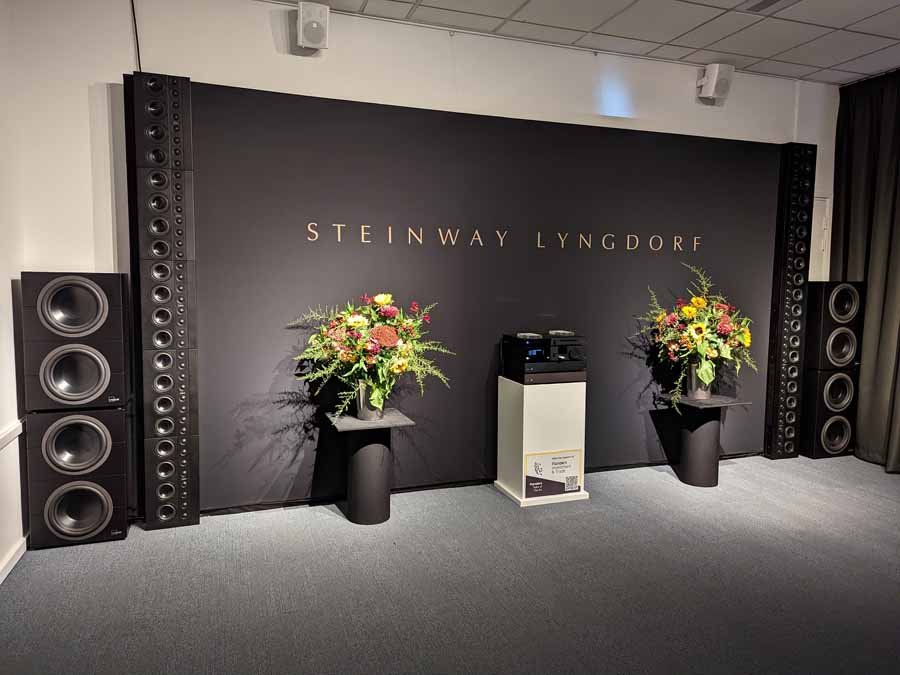 LS1000 speakers, subs BW20, TDAI 3400 pre, and SDA 2400 amps made up the €30,000 system and I can't help but think this seems to be a lot of HiFi for the money. And despite the driver count, it is actually a pretty compact (sort of) system).
The sound was as big as you would expect!
A TUBE HiFi IMPORT 
This room was one of the last we got into but I'm so glad we managed to make it as it was a real treat. Big Klipsch corner horns (€23,000) and a Western Electric WE91E (€17,500) pushing very nice sounds out into the room using a Grimm MU1 and a Line Magnetic DAC.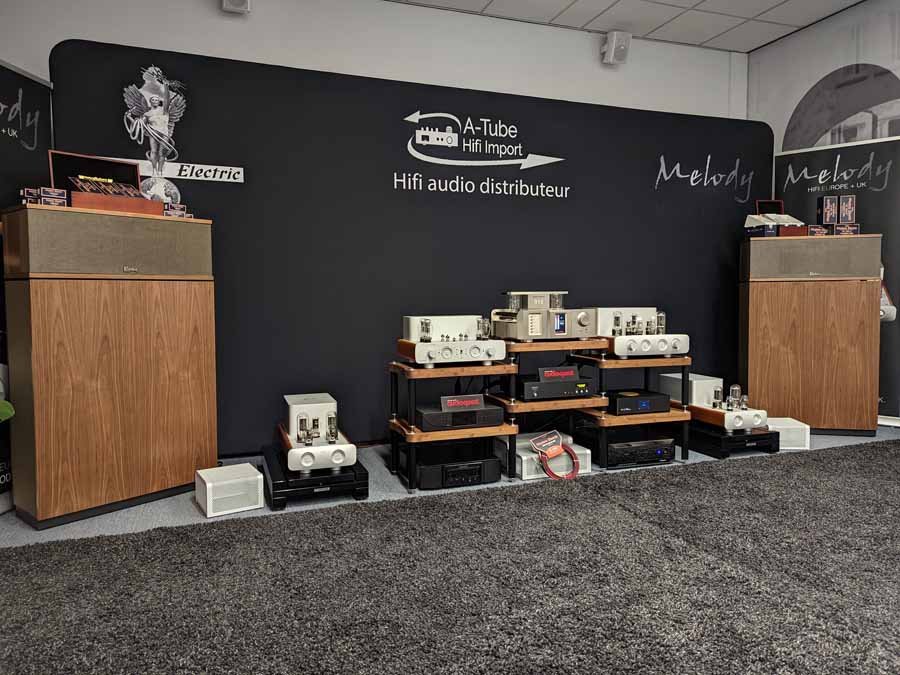 This is the first time I've managed to hear the Western Electric amp and whilst I don't think this amp will appeal to the traditionists out there in HiFi-Land it certainly entertained me.
Sound-wise playing Smoor's Maaike Ouboter the word I was searching for was mellifluous…and it seems that Linette agreed with her "That sounds lovely" comment.
So, perhaps the 91E may be a bit modern for some, but to my ears, it does a lot of things right… particularly with these speakers.
Lots of Melody amps were sitting around the room too but we didn't have a chance to listen to them. 
HEAR EVERYTHING AUDIO IMPORT 
CEC, Guru Audio, Merrill Audio, Music First Audio, and The Bespoke Audio Company were represented by Hear Everything.
A static display of the excellent Music First products, a CEC belt-drive CD player and the Guru Q10 was accompanied by a live system built around a Bespoke Audio passive preamplifier and a Merrill Audio Element stereo amplifier that I reviewed way back when it was launched in 2019. Speakers were GURU 28 floorstanders at €4000 and the transport for CDs was the CEC TL2N (€6700) along with a CEC DASL superlink connection.
This relatively compact system really hit home with, surprisingly, the little speakers (driver-wise, anyway) being very dynamic and hard-hitting making short work of filling this pretty larger room – much larger than I would have thought would be comfortable for the speakers.
AEQUO AUDIO 
The guys at Aequo have to be two of my favourite people in the HiFi world. No bullshit, honest and with a product that they believe in absolutely. I like this kind of attitude!!!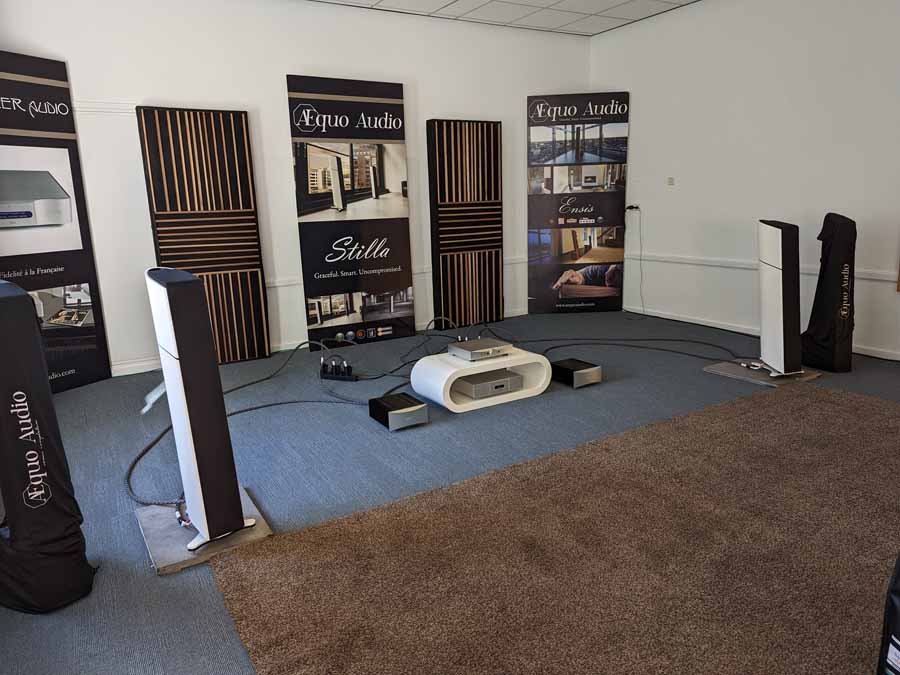 Speakers were the AEQUO AUDIO STILLA The interplay between room and speaker are an incredibly important factor when trying to reach the best results in sound reproduction; an aspect that the engineers at Aequo Audio have been very aware of in the design of Stilla. Stilla has a special acoustic EHDL-lens that is designed to sure the reflections on the floor and ceiling are minimized. The reflections on the speaker itself are minimized by the use of rounded edges, rounded sides, plus a layer of special absorbing felt on the front. Additionally is the loudspeaker's unique analogue room adjustment system.
Aequo Audio Stilla makes use of the brand's ARPEC-system which is fully adjustable to room size and placement with dials on the speakers.
Aequo says that with the ARPEC system, Stilla is capable of reaching a perfectly natural and coherent bass, even in difficult rooms. This means the customer can select the amplifier they like based on its character, rather than the need to drive difficult loudspeakers.
Speaking of amps, the amps used here were the CAAS monos and pre that I reviewed here and which are distributed in the UK by Bill at Auden Distribution.
Stilla is available as a standard hybrid version with active bass and passive mid/high section, and also available as fully-active. With an extra 100 Watt amplification on mid and tweeter (600 Watts in total per speaker).
Obviously we were listening to the non-full-active versions and they did sound rather excellent filling this very large room effortlessly and with a good and very deep. This was a really excellent-sounding room – effortless, unforced, and detailed. I liked it.
Aequo have also started producing cables which were being used in the system.
Stilla Hybrids are €20K and the fully actives €22K.
B.AUDIO 
Andre Zonn's You Better Be Home Soon was playing when I first stepped into this room and it sounded very nice. I think this may be one of the first times I've had time to spend properly listening to B.audio kit but I hope it won't be the last. The combo of B.audio and Intrada speakers was a real treat.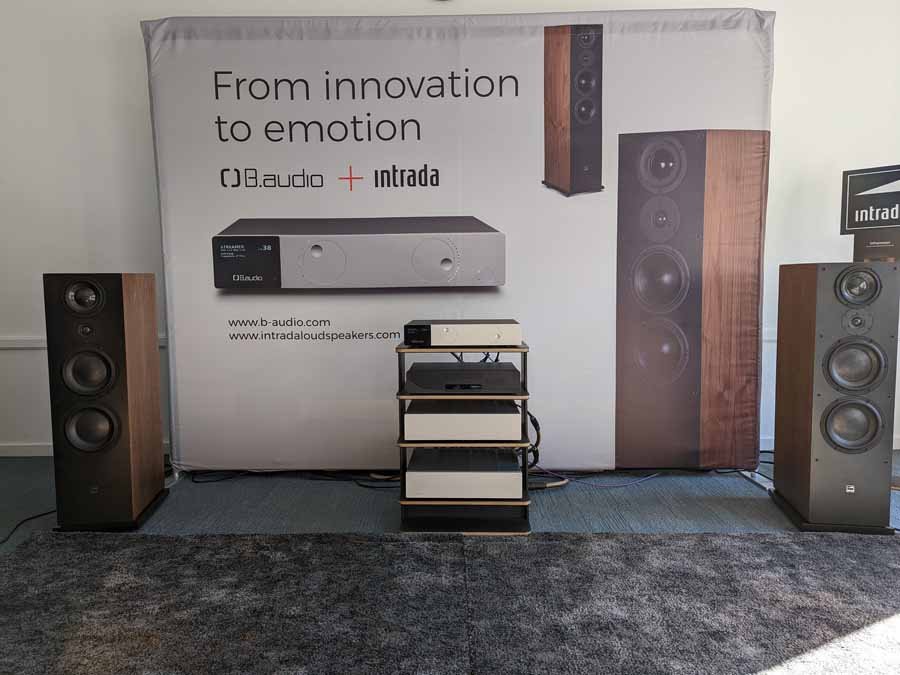 Amps were the new B.audio B.amp mono that was first shown at High End Munich 2022 and features all the technological innovations from the B.amp stereo, in a symmetrical monophonic declination.
The B.amp mono is a class AB power amplifier that delivers 500W under 4 ohm and 300W under 8 ohm. It is based on a special circuitry which reduces the crossover distortion below the measurement threshold. The B.audio Intelligent Output Drive (IOD) technology optimizes the use of local feedback at the most critical stages and allows linear operation under all working conditions. To ensure immunity against loudspeakers-generated return currents, a specific design has been developed, which uses a class-A push-pull driver stage fitted with six high performance transistors. European price per pair is 24 900€
A version of I Will Survive by Petra Magoni and Ferruccio Spinetti had contra-bass sounding very lifelike with lots of little details being well evident.
432 EVO/ILUMNIA 
432 EVO presented their boosted version of the 432 EVO MASTER and AEON music servers in the new MK3 edition at Dutch Audio Event.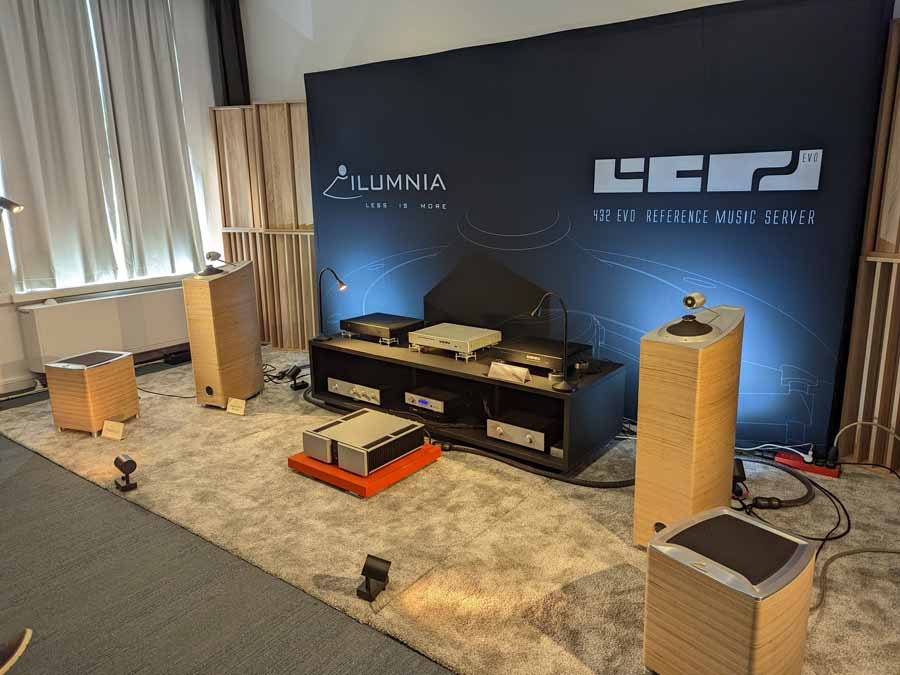 The MASTER is 432 EVO's dual chassis flagship music server, which can run both Roon 2.0 and Logitech Media Server as music backends, combined with 432 EVO's custom real-time tuned player running on the same machine, which outputs via an audiophile USB output to a USB DAC, either in bit-perfect mode or with upsampling enabled combined with or without 432 Hz processing.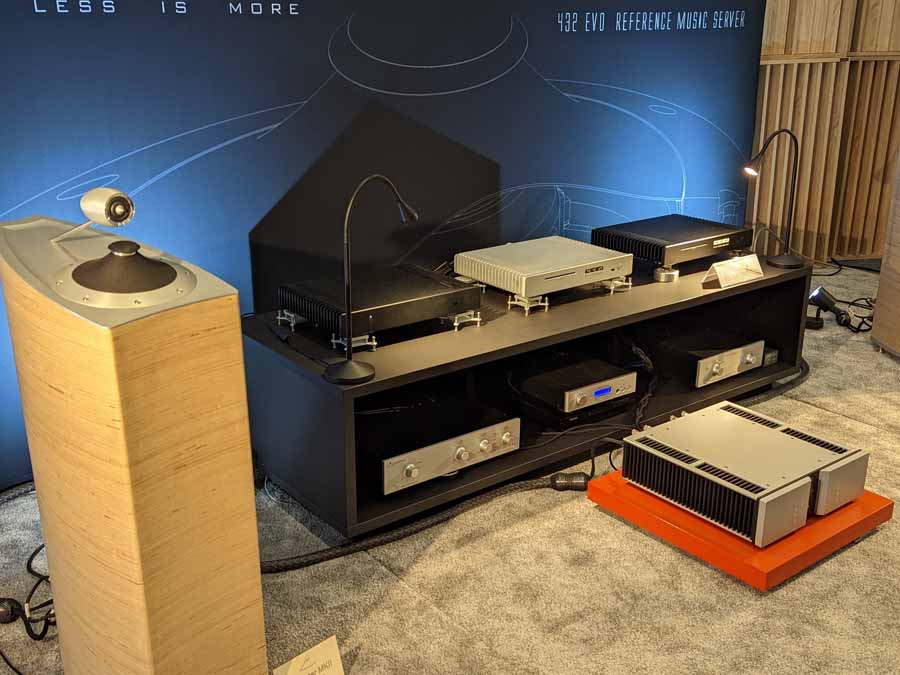 The AEON is the more affordable version of the MASTER: while MASTER has a true triple linear power supply with three country-specific independent transformers, output stages and cabling (for the IT parts, the clock and the USB output boards), the AEON uses two Sbooster BOTW linear power supplies. The MASTER also has more under-the-hood Linux tuning than AEON, which is invisible to the user, but says 432 EVO, 'clearly audible'. The mk3 revision will now feature a new and improved USB output card with dual USB outputs.
Also new on the retail price list as an option, is a 3D shield which isolates the USB output card and clock from the IT parts. The 3D shield combined with an upgraded SATA cable comes as a package deal for € 300.
Within the 2-year warranty period, 432 EVO AEON can be upgraded to 432 EVO MASTER. For existing customers, the 3D shield can be retrofitted to virtually all older 432 EVO HIGH-END, AEON and MASTER models.
432 EVO has also upgraded the built-in upscaler feature, with a new selectable upsample filter bank which passes far more bandwith than traditional upsampling, and combines the best of frequency and time domain features of such filters. This new "Extremus" filter will soon be released as a free software update for all AEON & MASTER customers.
Merkaba playing Earth was playing and this is a tune I didn't know but will search more out. This is a percussive track and the Illumnia (probably the most interesting speakers in the world right now) with the Vitus amp and 432 Evo Master made fabulous noise. Power was evident but also it seemed to not be breaking a sweat at any point in the chain. When the bass kick came in the room was filled with bass that (to my ears) sounded "right". I sat right at the back of the room to the extreme left as you look at the speakers and with a good few folk in front of me, but it was still easy to get a good perspective of the stereo image. I also got the sense that whilst this sounded loud it wasn't actually playing loud…again, there seemed to be plenty for this system to fall back on with regards to power and detail.
Moving to the front of the room it's clear that whilst it was imaging well from the back, there's a sweet spot (still wide) where things snap into place. Cinematic Orchestra's A Caged Bird/Imitations of Life sounded GLORIOUS!!!
When a system reaches a point of synergy, and clearly this one does (though I have ranted on about synergy being a myth in the past) something just clicks and you get a noise like this. Well done to all involved!!
KONUS AUDIO
Living Voice and Kuzma – it could also be like sitting with Kevin and Lynn at Definitive.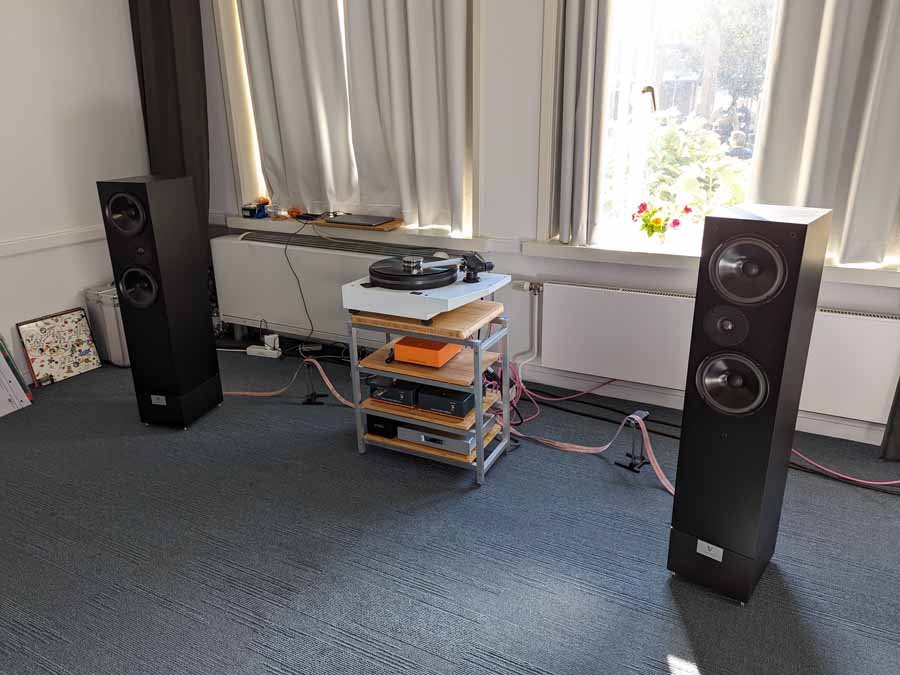 Konos Integrale 2000 amplifier (€3,900 ex VAT), the DAC is the Konos Digitale 2000 (€3,990 ex VAT)  and the phonostage is a Vinylé 3000 (€6000 ex VAT) from Konos.
This compact system, for which I believe Definitive in the UK are now distributing (KONUS) certainly did the business through the Living Voice speakers playing Lou Reed's Perfect Day. No bells, no whistles, just music.
LATERAL AUDIO STANDS
Lateral Audio Stands make really nice looking HiFi racks by Kevin Hancock in the UK. They got a space at the show last minute but I'm ever so pleased they did as it's always nice to see the Brits at shows like this.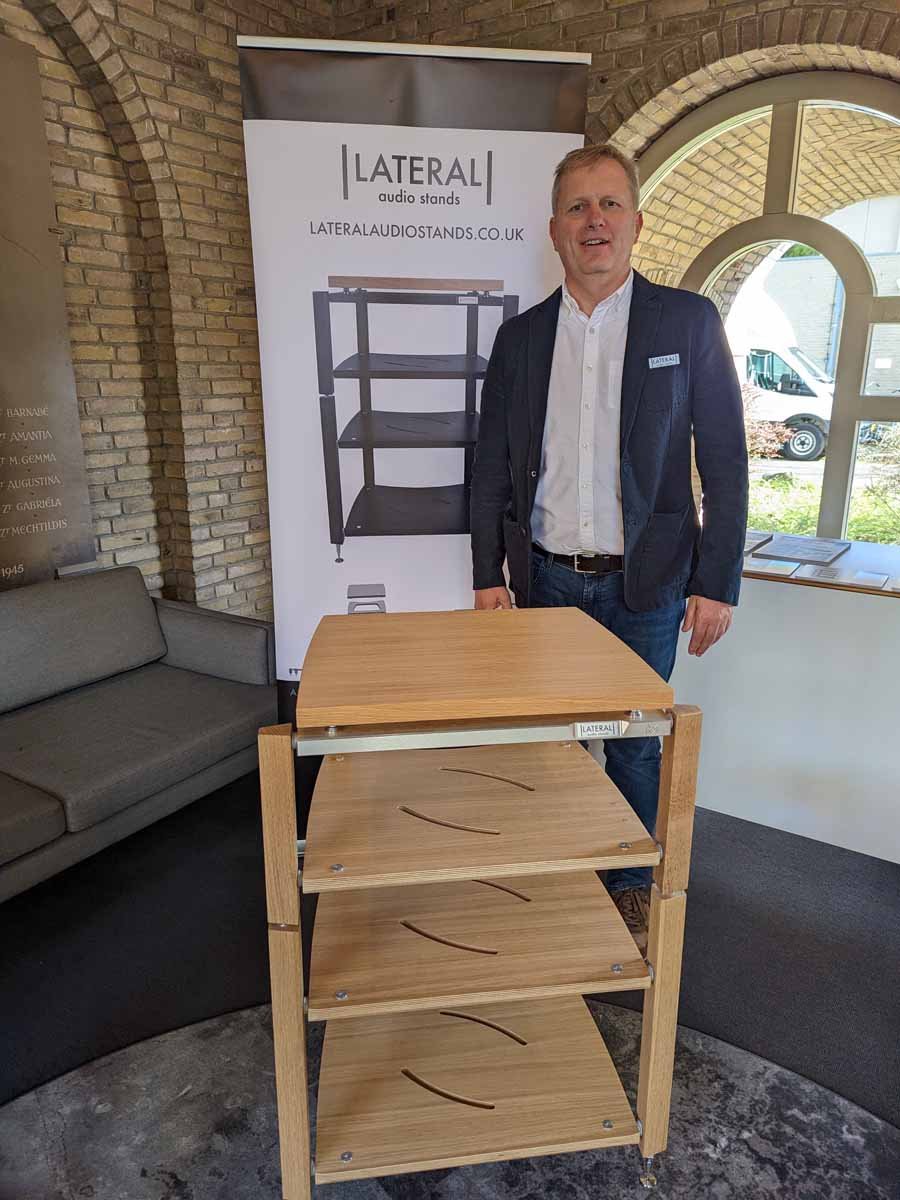 Lateral Audio's racks range start at £600 -£1200 for the Cadenz Vr and is available in 4 real wood finishes, modular pacers etc. The Concert is a more audiophile stand aimed at the enthusiast market wanting to get the very best from their systems. The Concert starts at £2K rising to £3K depending on the number of levels you have. The Concert is available only in a premium Oak veneer or in black.
Like at Cranage, Kevin was getting a good deal of interest from dealers and visitors to the show which is excellent to see.
JOENIT
Rega and Totem together to make for a nice looking and not overcomplicated system for real-world homes and pockets.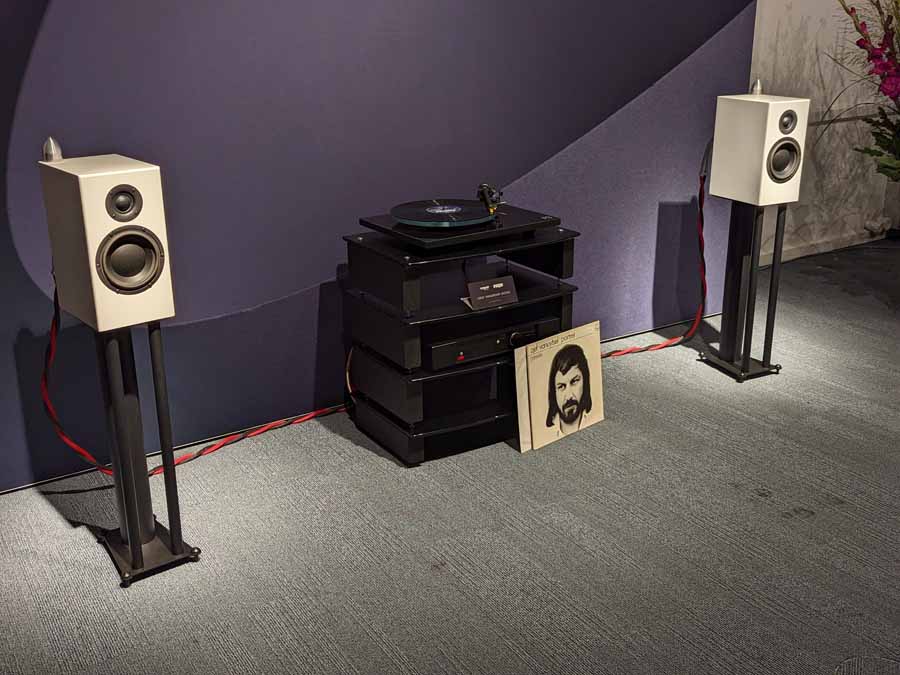 Music was a Dutch artist Zjef Vanuytsel "De Zotte Morgen" which was new to me but really quite nice.
The full system came in at €3999 (€4778 when bought separately) and was made up of Totem Acoustic Sky, Rega Elex-R integrated, and a Rega Planar 3 with an Exact MM cartridge.
I think this is the kind of price a lot of (normal) folk would consider a chunk to spend on a HiFi system but in the world of HiFi that's very affordable and it did deliver on sound that, based on the performance here, I'd be happy to live with. Nothing to moan about at all and a lot to commend. The speakers were never going to go super-low but then you could always add a sub and they did image very well in this room – and it was a big room for them to fill!
KLANGQ 
Speakers club27 Kurt 7000€, Mearason DAC dac1 4900€, Cables M-way from Holland, and the amps were from ATC. I was a little surprised when I was told of the price of the speakers which have an 8" widebander with no crossover/filter but also a horn tweeter – I expected them to be more expensive.
Again a natural sounding room that for me was lacking only a smidge in the very lowest registers. However, highly detailed and speedy through the all-important mids and lower bass band. Good looking speakers  too.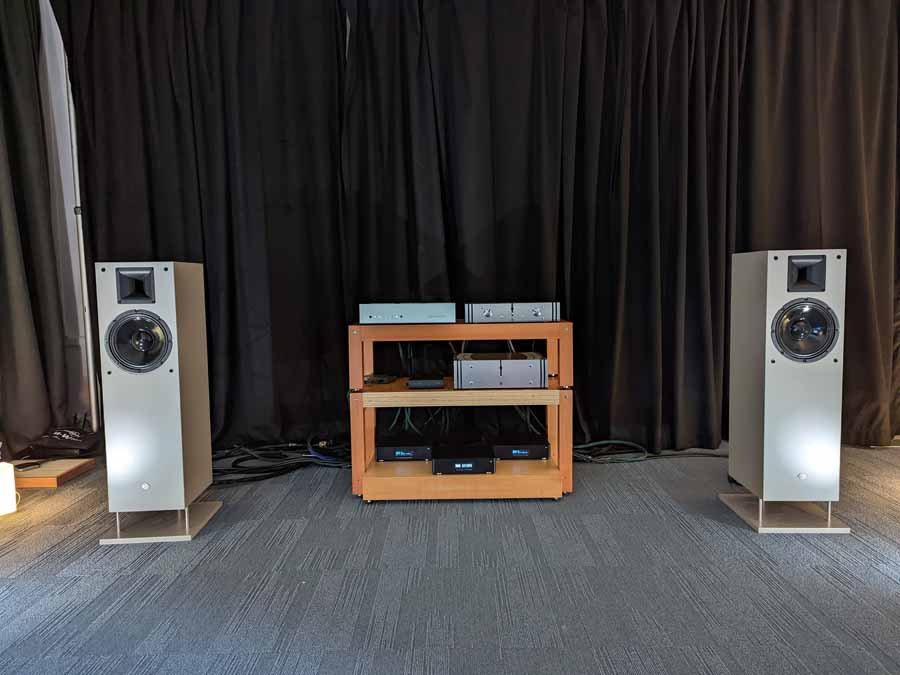 SOUND UNITED BENELUX 
Bowers & Wilkins along with Marantz in this room that was quite busy but whilst there was music playing it seemed that the modus operandi was for the reps to move around the room and chat with people rather than allowing them to sit down and listen to the tunes playing. Nothing wrong with this, of course and I'm sure it gives a better chance of making a sale…just not really much to write about for the likes of myself.
GOLDMUND BENELUX
This was a very nice sounding system and a very cool room.
This was the first time I've heard Goldmund's electronics on their own but they certainly did the business playing Sam Fender's Seventeen Going Under and Robert Francis's Fire Engine Red. That Bergmann turntable with Odin linear tracking arm is something else. Speakers are a rebirth Apogee from a brand called Clarysis from Switzerland but built in Hanoi in Vietnam. Anyone that knows Apogee speakers will be well aware that they have a reputation for being complete bastards to drive, but the Goldmund electronics barely broke a sweat!
The full system was: Clarisys Audio Minuet speakers (€27,225) Goldmund Telos 590 Next-gen II integrated amp (€30250), Pink Faun 2.16 streamer ( approx. €10,000) Goldmund PH3.8 phono preamp (€47.000)  Bergmann Galder turntable, Odin arm (€29,469) Airtight PC 1 Coda cartridge.
This system ticked a lot of boxes for me with the bass being particularly good in this fairly small room. However, the mids through those speakers were fantastic. A top system, without a doubt.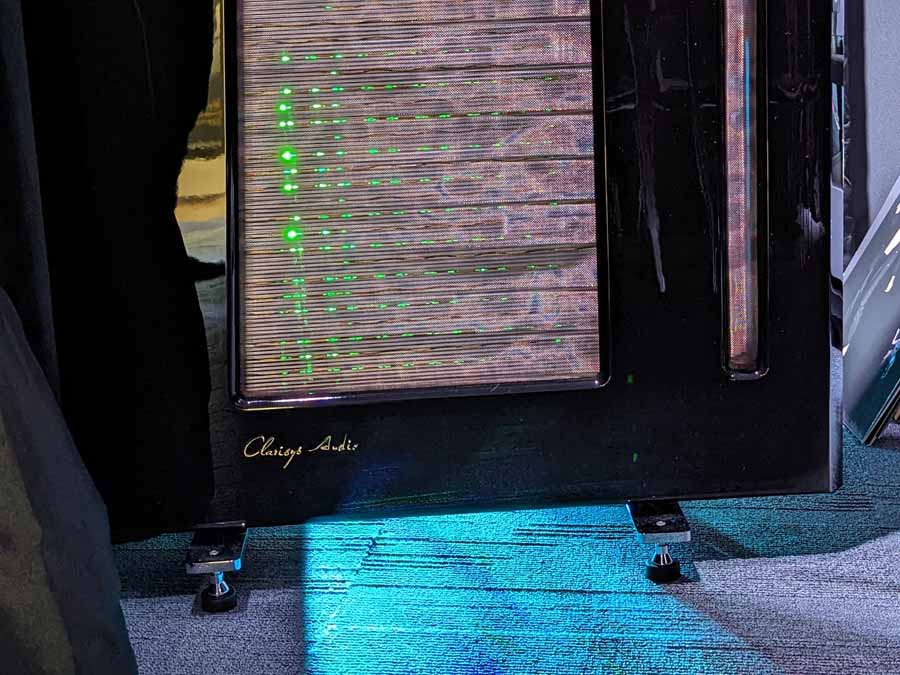 VOXATIV 
Voxativ is always a real treat whatever show you end up hearing them at and this show was no exception.
Playing a great version of Dock Of The Bay sung by Sara Bareilles and then a cover version of Dire Straits' Brothers In Arms by Club For Five. The latter has a very deep male vocal that put the sub and bass unit on the speakers through their paces, whereas with the previous tune it was mainly the wideband driver doing the majority of the work.
Clearly, the reputation of Voxativ precedes them as the folk in the room were reverentially quiet and clearly enjoying the experience.
System in full was: Voxativ 9.88 speakers with ac4mp wideband driver, Kick bass unit, Ripple sub and a t805 (30W) tube amp driving the kick and wideband whilst the sub is active. €70K for the speakers and €32K for the amplifier.
My thoughts on this system is that it's a natural sounding system that you would expect to hear with a fantastic quality wideband driver driven by great tubes but brought bang up to date and with proper full frequency dynamics by the Kick bass and Sub.
As usual, a fantastic aural experience and possibly something I would go with as my final ever system.
HOFFNER
We listened to the white matt lacquered active Höffner H10 loudspeaker. It is an active, bass reflex design which costs 14.200€ as a 2-way loudspeaker in the finish we saw. It is also available in an oak finish from 13.200€.
The system also included the Gold Note PSU-10 EVO power supply and DS-10 Plus DAC/Preamplifier/Streamer and for CD a Perreaux preamplifier with Exposure XM CD Player.
The bigger Höffner H10plus loudspeaker is also active. Price for the closed 3-way speaker in the oak finish is 19.800 €. It is also available as a partially active version from €23,900. The range also includes the passive H1 loudspeaker, which we have heard previously at Munich.
All very nice and a great-looking speaker that reminded me of B and O BEOVOX 80.2 – in looks at least.
Good looking speakers that sounded great on the day. Nothing shouty and "look at me" just a nice-sounding speaker, made in Germany.
GRIMM AUDIO 
Another massively popular room, but I do wish that people would stop standing in the doors of rooms – obviously not the fault of Grimm but it does do my head in, particularly when the exhibitor has gone to the trouble of ensuring there are lots of seats for everyone, many of which were left unoccupied in Grimm's room.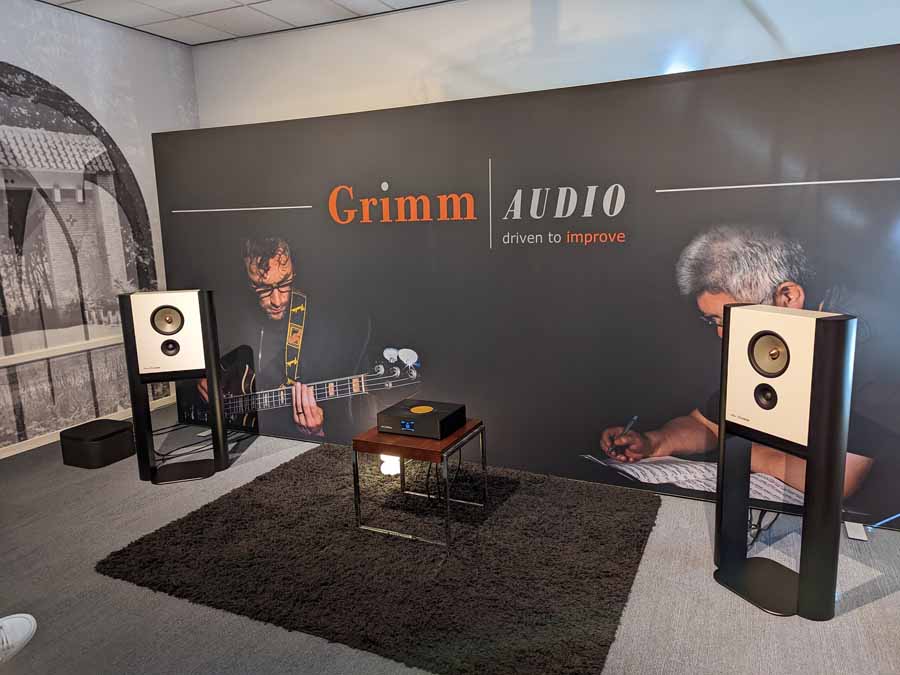 Grimm were demoing an MU1 digital music source and LS1be speaker system to which we were introduced to in Dutch…and it struck me how many words are very similar in the HiFi world wherever you are in the world.  The room filled up dramatically during the introduction and all seats were taken whilst I was catching up on my notes from the show and trying to work out whether we were going to get around the whole of the show in the time we had left.
Music first up Was Fanfare For the Common Man by Minnesota Orchestra and Eiji Oue. This was a big space to fill but the Grimm system had no issues. Sat at the back of a busy room was akin to looking down on the orchestra from the balcony – it was very easy to visualise this scenario whilst the music was playing. Dynamics were very good, bass was especially visceral and the way the orchestra was laid out in front of the audience was excellent.
Another hit for Grimm!
DYNAUDIO BENELUX
Dynaudio partnered with Auralic for the Dutch Audio Event and it was a very nice-sounding partnership. And, again, this was a very popular room. However, Auralic wasn't playing when we were in the room.
Speakers were the Dynaudio Focus 50 active streaming speakers that retail for around €10k and for this kind of money this makes a very sensible choice for those looking for a simple solution that you just need to plug into the mains, sit back and enjoy. I think Dynaudio have got a great product here and I genuinely believe that it is this kind of product that will appeal to a more mass market that isn't interested in the whole "audiophile" box-collecting game.
IAM LIVING 
New one to me but very cool and very much bridging the whole HiFi and lifestyle thing brilliantly – and I suppose that's where the name comes from.
Of particular interest were the Vonschloo speakers that are handmade in Switzerland from fibre cement. The speakers are around €16,000 and the Vonschloo smart amp which detects which source is playing so you don't have to switch (oh the effort) is 6000€. The brand is designed by Vonschloo and made by Dynavox.
What I liked about this whole set-up was the guys had gone to great effort with the room and the way they presented themselves- orange tees, and matching orange Adidas trainers – I like details like this!!!
CHORD ELECTRONICS 
The Dutch really love British HiFi and Chord Electronics seems to be one of their favourite brands. Moz from Chord was very impressed with the amount of visitors to the room.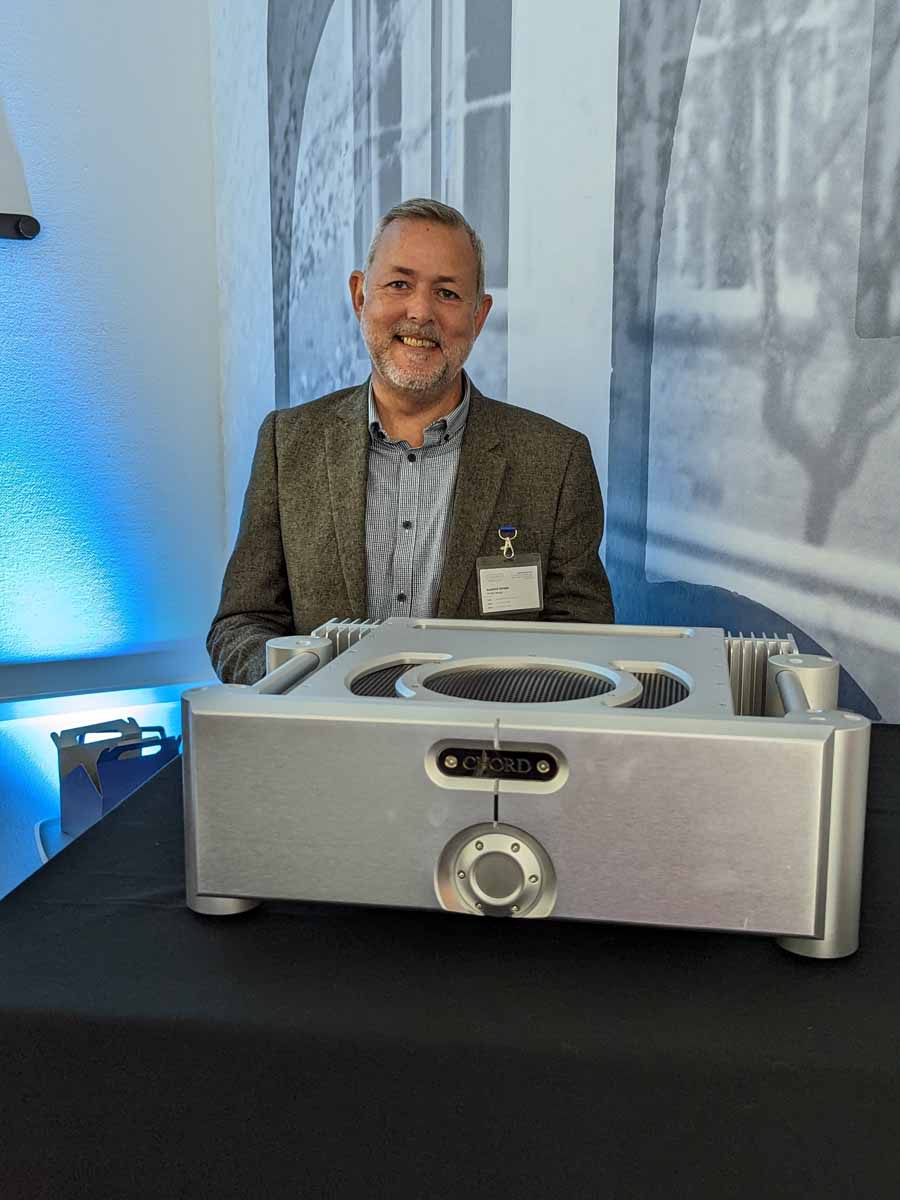 I was chatting to David at Stratton Audio recently with regards to Chord electronics and the general consensus was that they make industrially beautiful products that could only be from this iconic British brand. It's always a pleasure to see them at shows and the sound is always (ALWAYS) never less than very, very good.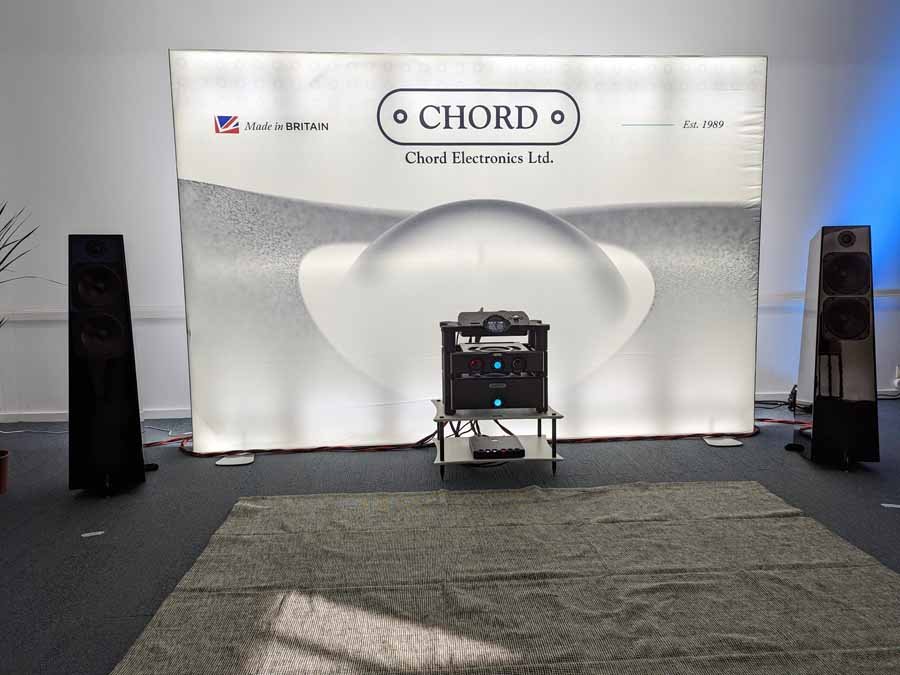 Needless to say, the room was packed and visitors were making suitably appreciative shufflings.
The full system was:
Chord DAVE (£9995), Ultima Pre 3 £6,000, Ultima 5 power amp £10,500, and the M Scaler (£3995).
Speakers were the Totem Element Metal 5 that cost in the region of £17k and all cables were Chord company with the Innuos Zenith serving the sounds.
HEPTA DESIGN AUDIO / TEMPORAL COHERENCE 
This was a small room but absolutely packed. All very conventional looking from the speakers' perspective but they did sound very nice given the really less-than-ideal conditions. Didn't really get a chance to speak to the people running the room and all the literature was (rightly) in Dutch but if you do get a chance to experience this brand then do. Clear and clean are my sonic takeaways.
Hepta is the speaker brand and Temporal Coherence is the electronics brand.
AUDIO NOTE UK
I actually think this is the best I've heard ANUK sound, which is good going for a hotel suite. The sound was expansive, wide, detailed and fast. Perhaps I've missed a trick with ANUK in the past and dismissed them a little too quickly, perhaps they have upped their game, but I assume it's the former.
Played a track by Ghost (Pro Memoria) that John Scott went to see a while back. I'd never heard the band before and expected them to be a tad more metal-tastic than I heard here. However, what was surprising was the sheer scale this system brought to the table. Really good!
The full kit list from Audio Note UK at the Dutch Audio Event was:
TT-Two Deluxe £3062.75 Inc VAT
ARM-Three/II £1761.09 Inc VAT
IQ3 MM cartridge £891.83 Inc VAT
CD2.1x/II CD player £4040.74 Inc VAT
M5 Phono preamp £11,314.40 Inc VAT
Empress Silver Signature Mono amplifiers £13225.53 Inc VAT
AN-E/LX HE 'speakers £8446.12 Inc VAT
Lexus LX speaker cable £1850.38 Inc VAT, 3m biwire pair
Lexus interconnects £238.25, 1m stereo pair
AFGROUP 
Audio Analogue electronics with Airtech speakers. The speakers were a new one for me. They are the ATS 01 magnetostatic hybrid speakers. They are in prototype at the show but expect a price around €40K.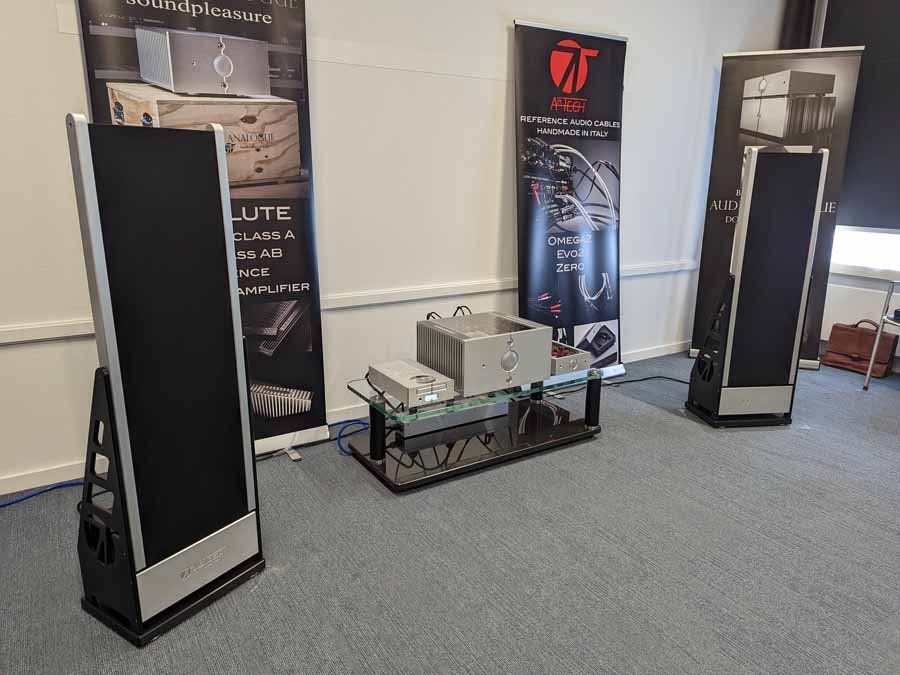 The Absolute amp from Audio Analogue puts out 50W Class A and 150W when it goes into Class A/B but it's about the biggest integrated I've ever seen. It costs around €24,000.
All this is Made in Italy and sounds rather splendid.
SONORITY AUDIO 
Sonority had a busy room of mainly static displays of Topping and Schiit.
REFERENCE SOUNDS 
Reference Sounds had the Wilson Audio Sabrina X (€28,990), the Loke Sub from Wilson (€12,990), Audio Research REF 160S Power Amp (€26,990) Audio Research REF6SE Preamplifier and a Mark Levinson No519 player (€26,990).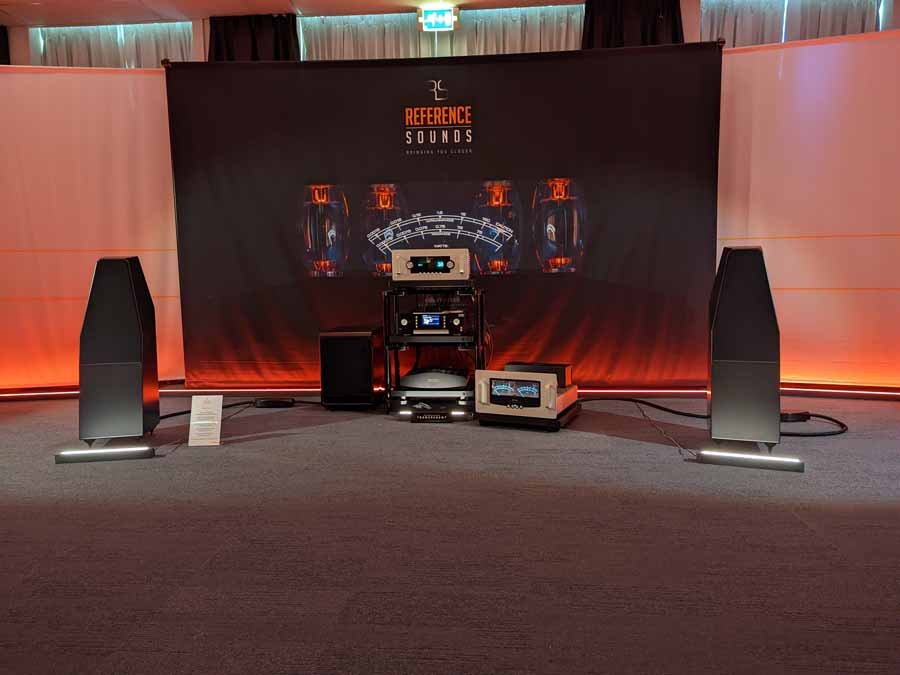 This is HiFi at the top end of the scale and was highly popular with visitors to the show and rightly so. These are brands at the pinnacle of high-end HiFi and they always draw a crowd. Plenty of stunning looking valves and of course the Audio Research Ghost Meters.
Not playing my kind of music and there was a lot of excited chatter in the room, but there's no getting away from the fact that this is very nice audio equipment that plays music beautifully.
AVM & AVANTGARDE ACOUSTIC 
And so the high-end experience continues this Sunday morning and this time it's with speakers that are really close to my heart and which I still consider to be amongst the best in the World, though the Avantgarde Trios (G3) (and single bass horn) are in their latest and renewed iteration. The Classico shape is still there and so is the Avantgarde sound. SLAM and fantastic dynamics are the order of the day, aided and abetted by AVM electronics (8.3 monoblocs). Pre was the AVM Modular pre.
Avantgarde always plays loud and the Dutch Audio Show was no exception, but these speakers really do come alive when they are pushed a bit. As an aside we had thought about selling our DUO XDs but plugged them in recently for the first time in around two years and that idea has been totally overruled by a unanimous decision. Hearing this new Trio has rekindled my love affair with this German brand somewhat!
MUSIC 2 
This room was excellent and had Bleumenhofer 2×220 (€28,000) loudspeakers. The amps were Trafomatic Rhapsody limited edition cositng  €18,000 and there was a Reed turntable costing around €10k and an extra €7.5k for the arm. Cartridge and phonostage were both by Van den Hul.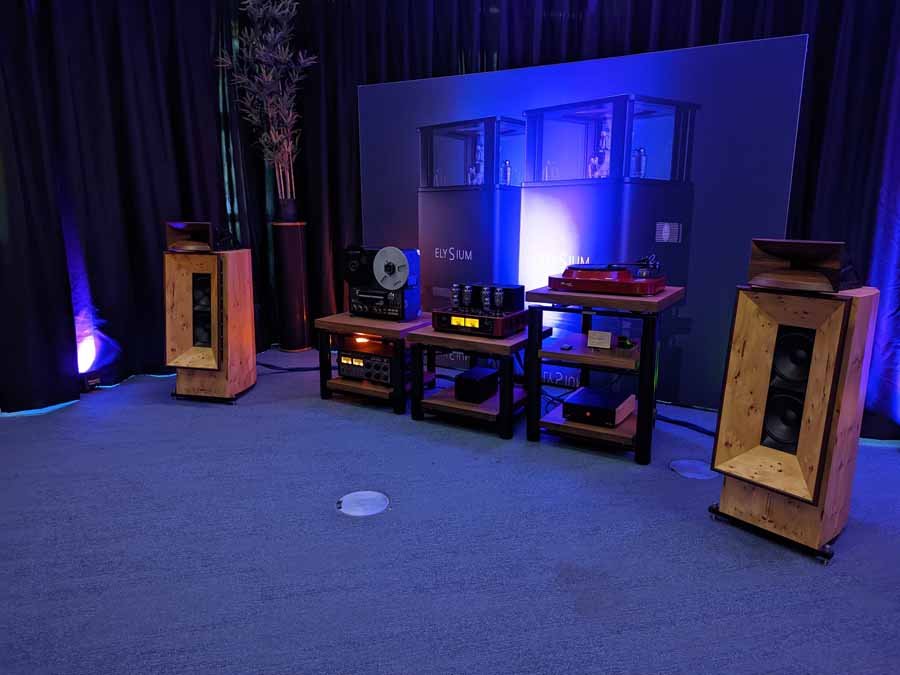 They played the old show favourite Stevie Ray Vaughan and Double Trouble's Tin Pan Alley which was the first time I'd heard it at the show – still no Keith Don't Go, mind!
This was a very busy room indeed and I could certainly understand why that would be. A lovely relaxed and wide sound.
Also a whole load of Auris turntables on display…plus enormous valves!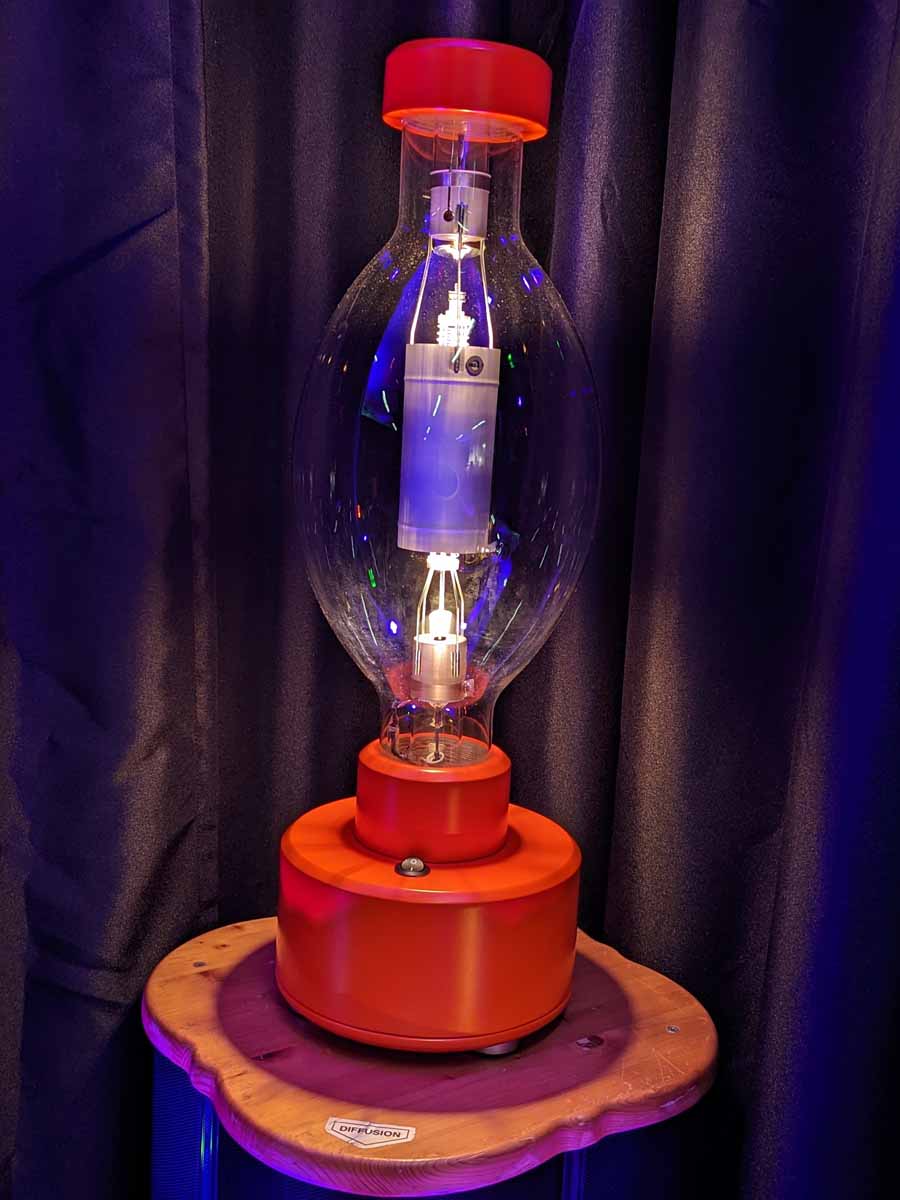 DAUDIO 
We heard the DAUDIO M1 and M2 systems with the idea being that they sound great and fit in small rooms. The tweeter on both is a  Mundorf AMT tweeter and so this needs no chamber and no resistors or filter in the path. DAUDIO say this is to get rid of resonances. The  Audio Technology midrange is made for DAUDIO (Dipole Audio) and as the name suggests they are open baffle dipoles.
The M2 is €5000 with the Lyngdorf amplifier and sub and M1 is €16,000 with sub, amplifier, DAC and streamer.
Listening to the M1 system is a very nice experience whilst Will Downing's Will's Groove is playing. This is a funky bassline-led track and whilst these speakers are tiny, it is certainly a very full-range experience. Actually, this is a superbly open and engaging experience.
The M2 with sub also sounds very nice but isn't as detailed or with the same level of impact as the M1. However, whether the difference is €11K will be down to your own personal taste – I'd certainly be saving the extra, though the M2 is also very good.
This Netherlands company sells direct and whilst you may not have heard of them, you certainly should have them on your radar. They think differently about the whole audio experience and want people to listen to music and not to the loudspeakers. I like this!
D&D AUDIO
A very stylish room with Crystal Cables speakers and the world premiere of a €3100 for one metre network cable called DaVinci from the Art series of cables from Crystal Cables. We also had time for a chilled-out chat with Gabi and Edwin Rynveld as it was the last room we visited on the Saturday.
The Minissimo speakers have an active-passive system. There is still a passive filter but this is not connected to the driver – it has a buffer in between to isolate the load of the driver from the filter and hence the amp. So, it still has an external amp but the amp is not presented with a difficult load that is stable at all frequencies – no dips. There is also a "balanced filter" in there. There are no coils in this system as Crystal feels they are unstable and so don't use them in these speakers, though air-coils are in other speakers they produce.
ClearAudio and Sitech were in the room too, along with Devialet and the Innuos Statement music server/streamer with their Next Gen PSU.
LATHAM AUDIO 
Chord Company, Kudos, and Naim Audio were represented in this room with a series of static displays and a system. I can honestly say that I am yet to hear a system that had Kudos speakers on the end sound anything but very good and today was no exception.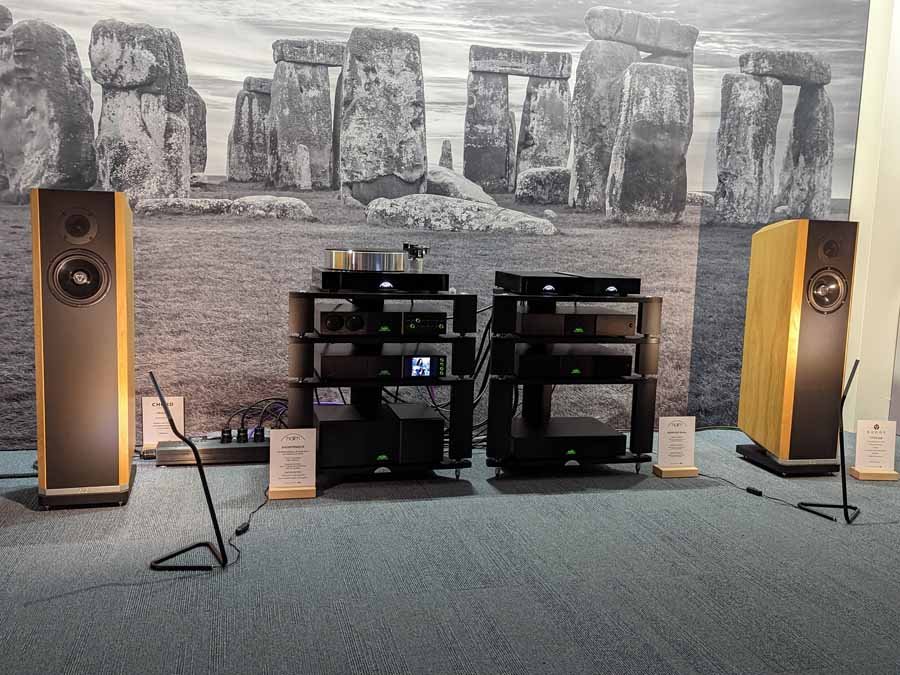 The turntable was the NAIM Solstice NVS with ARO tonearm and Equinox cartridge through an NVC TT Phonostage and NPX TT. Price on this front end is €17,150. Sadly, I didn't get to hear this in action.
On the digital front were a KND555 (network player) and PS 555 DR (PSU) with a NAC 552 (pre) and PS552DR (PSU) along with a NAP500 amp and its PS500 power supply. cables were from Chord Co with the addition of the new Chord Company M6 Powerhaus block.
Speakers were the Kudos Titan 606 at €13,675. The room was Stonehenge-themed with a nod to the Salisbury area location of Naim and Chord.
HEADPHONE AUDITIONS 
Well, the name here confused me and I assumed I'd walked into the wrong room. Yes there were headphones but playing was a system made up of a dcS Lina (€32,000), Riviera Labs Levante (€22,000) amplifier and Fleetwood Sounds De Villes, dual-ported reflex, conical horn loaded two-way design speakers (€22,000). Power cables were by SIN Audio and were around €30K.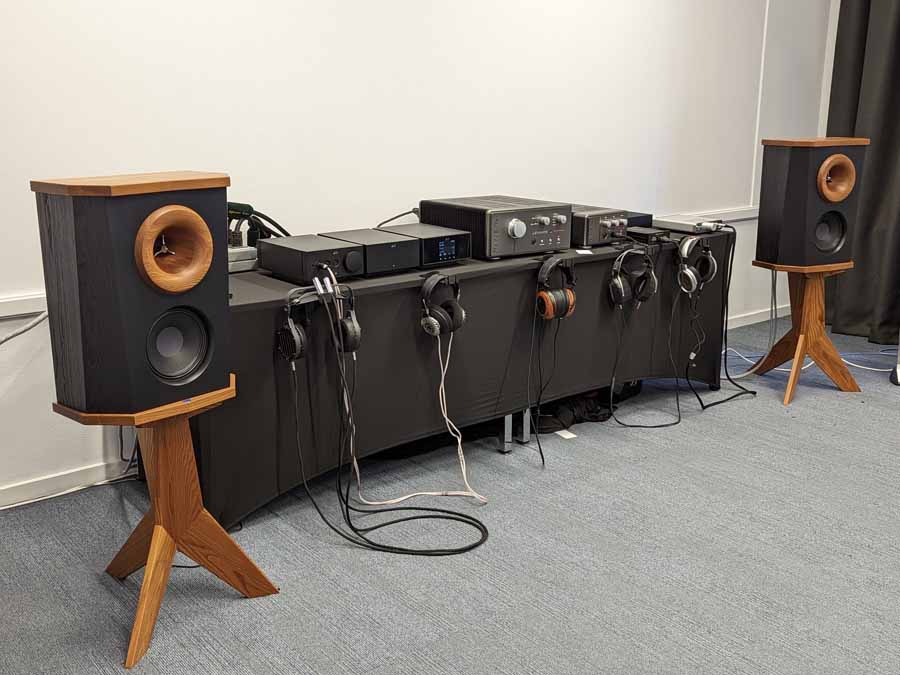 Fleetwood Sound Company is a new division of Oswalds Mill Audio (founded 2006). OMA's creators set up FSC to produce a new line of smaller, more affordable audio components while retaining the same build quality and design as their OMA line. Loudspeakers with the same solid hardwoods, hand-rubbed natural finishes (oil and wax), conical horns and innovative audio engineering-driven design made within reach. The new Fleetwood components are built under the same roof as OMA in Pennsylvania, next to the factory that made the Fleetwood motor car, the Fleetwood Metal body Co. The first product from FSC is the DeVille standmount loudspeaker. The DeVille loudspeaker is a compact, two-way design made from sustainably harvested, solid Pennsylvania ash hardwood that has been torrefied (thermally treated for tone and stability).  FSC says "It is the most powerful and efficient design possible for its size, using real professional drivers capable of much lower distortion and higher power handling".
This was a fabulously smooth-sounding system and as natural sounding a set-up as I've heard at a show. For me, almost everything was right with this system, even in the show environment.
What I particularly liked about this demonstration was that they had a set of varied music that played all the way through and was listed as to what would be on and when. The music varied from The Clash to Chet Baker to NWA.
DALUSO 
We found Jern speakers in this room, which readers will know I enjoy a great deal. If you don't know this Danish brand their main differentiator from "ordinary" speakers is the fact that they are cast out of cast iron. Their big selling point for me was their fantastic imaging, though I'm not sure about the Dire Straits they were playing when we were in the room and I'd have preferred the Carpenters they were playing when we passed earlier.
The speakers were wired up to an Aura Note all-in-one player/amp and overall this was a neat and compact system. Also plugged into the mains was a new product to me from a company called Vortex HiFi and I will take the quote directly from their website as to what they claim the plugs with aerials that consume "no power" "add" to a system: Turns electrosmog into positive energy, Set consists of 4 power plug-ins and 1 sweet spot unit and Harmonizes all electrosmog, even water veins". So there you have it. If that floats your audiophile boat, that'll be €999, thanks.
KAEMPFER AUDIO DESIGN
We passed this room as we got to our room and I thought their banners looked interesting, or rather the speakers they were advertising looked interesting.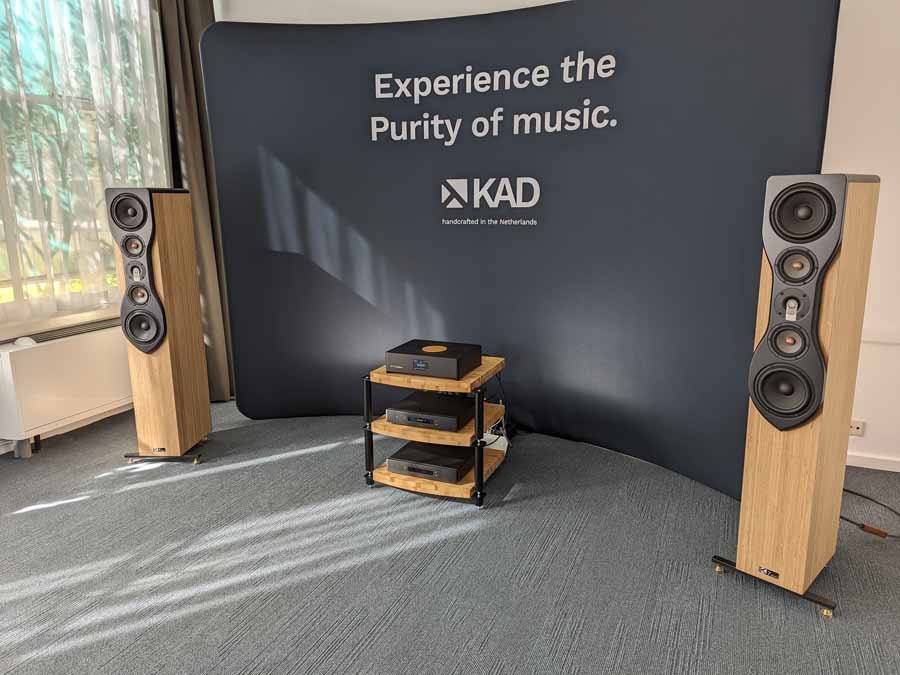 A Grimm streamer was at the front end along with the KAD K-7 EVO speakers (€32,500), which are proudly made in the Netherlands. They also do a large standmount speaker K-5R (€17,500) which is also an active design. The floorstander boasts a Diamond tweeter whilst the standmount has a Beryllium tweeter.
Playing Filippa Giordano Habanera which is not entirely to my taste but previously they were playing a bit of German metal which was cool.
Now, this may seem like a chunk of dosh for a speaker, but they did sound good with a particularly well-controlled bass, and, of course, you don't need to buy any amps. Again, the folk in the room seemed to be very appreciative.
KAD, is a name to watch out for in the near future, perhaps.
HIGHEND MUSIC 
This was a room filled with kit and split into two systems firing from each end of the room, though thankfully not both at the same time.
T+A rubbed shoulders with ProJect and Musical Fidelity on static displays
T+A system (T+A m200 monos MP 200 pre/DAC 200 TALIS S300 speakers) playing Gregory Porter Holding On was nice sounding, but the highlight of this room was finally meeting Mr Marcel  Verhave who I've exchanged messages with for years on social media but now finally got to meet – Winning!!!
SENNHEISER 
The Sennheiser room was closed when we passed but I believe they were demoing their flagship Orpheus headphone system in there.
ERCT 
O Audio from Norway speakers and Norma Audio Electronics. Enrico from Norma was giving a talk for a good deal of the time we could spend in this room and he was particularly keen to tell us how many live music concerts he visits every year and how his amps were designed to reflect his experience in the concert hall with them mixing the best qualities of tube and solid state amplification.
They played us some Bellafonte Cucurrucucu Paloma (Live at Carnegie) and this is certainly a good pairing of speakers and electronics – natural and "live" sounding. Really good forward projection of Bellafonte's voice but also good spatial idea of the music and backing "singers". Overall a very enjoyable experience of music. I've experienced this concert hall and whilst I can't remember its acoustic, I have no doubt this system did a good job!
MAFICO 
Mostly a static display of their wares with a couple of systems set up but not really playing at any volume and lots of people milling about.
Interesting speakers from electrostatics from Final mingled with electronics from Ayon and Bryston and also Harbeth loudspeakers. Also on show as were various products from DS Audio.
The system with the Dutch-made Final Model 12 speakers was finally fired up and it was a nice sounding and very open-sounding system with the Bryston electronics playing Malia and Boris Blank's Magnetic Lies, though I suspect a sub was involved somewhere.
HELIOS 
ATC speakers and a Benchmark amp (AHB2)were the business end of this system with Mutec supplying the zeros and ones. The ATCs are available in either passive or active versions, obviously the passive versions playing here. Jack of Speed by Steely Dan was playing when we went in this room and it was fabulously detailed and with a snap to the snare.
We were then treated to the same song playing through the active versions, and I have to say that the switch was immediately obvious and better. Better is obviously a subjective matter but I just felt it was a more immediate sound and somehow "faster", though how much my choice of that word was influenced by the music playing, I don't know.
Again, the room was very busy with people obviously being appreciative of the sounds being made. From my perspective, the active ATCs are very much my kind of speakers and a clear step up from the passive version on the day.
THE QUEST GROUP 
Playing Wink, Music For a Lady, the Audioquest and Goldenear room was split into a static space where people could chat with reps and a listening area – I liked this split. Primare amps provided the juice in this system that really did sound very pleasant with a low bass, that was perhaps a little too much for this room – in fact, it was definitely too much for this room. We passed the room again on Sunday morning before the show opened but the team were setting up and it was clear, even from outside the room, that the bass needed controlling a little more. However, I do appreciate that show rooms are far from ideal but perhaps a bit of room treatment may have been in order here.
I've heard Goldenear speakers a few times at shows, though, again, never at home, and I really do like them, despite my comment about the bass. They seem to offer a great deal of loudspeaker for what, in reality, is not an awful lot of money. Certainly, the people in the room seemed to be lapping it up, and I suppose this is the level of audio that will appeal to a lot of users – great sound but not at prices that make your wallet wince.
The Denon (flying saucer) DD turntable wasn't paying but looked great!
PAI AUDIO 
Audio Physics and Primare with Audioquest cables in a smaller room, but then still larger than most UK shows I've attended. Nice sounding room only slightly overshadowed by the bigger rooms we'd been in just before.
TERRASON AUDIO 
Halcro amplification was on show but it was Mola Mola through a pair of PMC Fenestria – really, what's not to love? My views on Class D are well known, but Mola Mola are a brand that (for reasons that will become clear if you read around the brand) really do Class D properly. They were playing Dance Macabre had loads of dynamic energy and heft to it.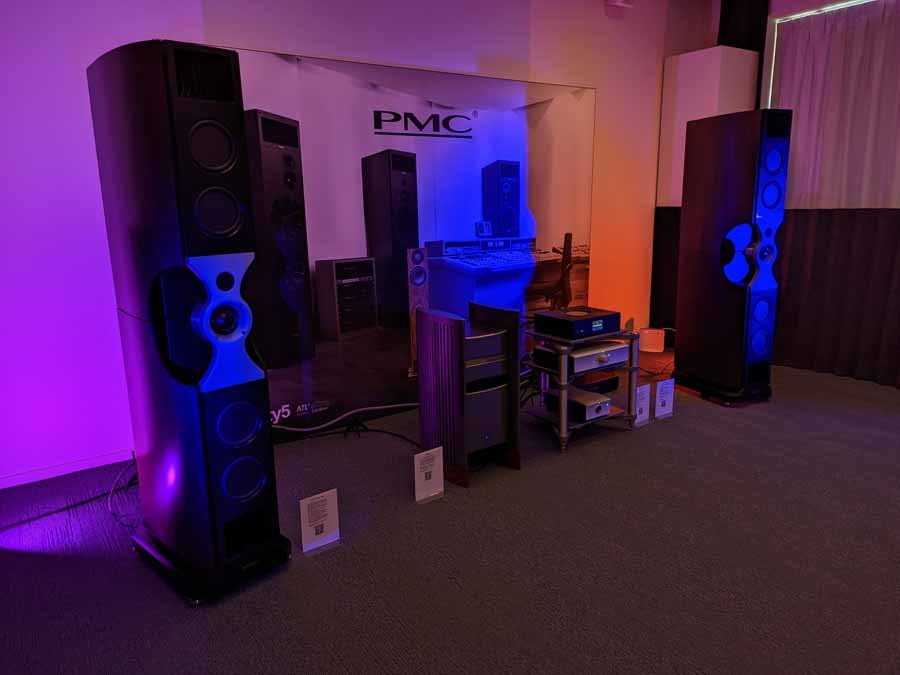 Whilst I've not heard the Fenestrias at home, I have heard them a lot at shows and they really never fail to thrill in the way they play music. A Grimm digital front end was perfect. Whilst I'm not particularly into this kind of music I do remember having to dance about to this music when I was a kid at junior school. What struck me here was that there was a real sense of scale and space to the performance with the orchestra laid out before me, even in these less-than-ideal conditions, though Terrason had gone to a bit of effort to treat the room  – this is good to see.
HNNY BENELUX / RMR SOUNDSYSTEMS
Nordic Investigation by Peder af Ugglas was playing in this packed room through a pair of big Fyne Audio (Vintage 12) speakers and Sivian Acoustics (Dutch) electronics  – Elara preamplifier and Larissa 300B power amplifier, which despite its name suggesting 300B tubes is actually a solid-state amplifier delivering 2 x 150 (300) into 8Ohms. Turntable was from New Horizon with Ortofon cartridge.
This was large room with this system cleverly firing diagonally across the room  – not as daft an idea as it sounds and overall I thought this was a lovely-sounding room that oozed a good degree of class. Effortless and sophisticated.
HNNY Benelux introduced the new Fyne Audio Vintage Twelve from the Scottish loudspeaker brand's Vintage Series. These were paired with Townshend Super Tweeters plus there was also Townshend products  on static display.
At this point we were only a few rooms into the show but it has soon become evident that exhibitors have taken time to really set up their rooms very nicely both from an aesthetic perspective and a sound perspective.
AUDIO TWEAKS / HNNY BENELUX / IKIGAI AUDIO
Distributor Audiotweaks supplied the flagship audio server from Pachanko (made in Reunion), the three-piece Constellation Masterpiece, for the digital part of the reproduction. The streamer operates Roon and Diretta. Diretta is a streaming protocol from Japan that ensures optimal data transport through the digital audio chain. Combined with ROON's operating comfort and library background information. This brings, together with the RMP-UB1 SPEC Diretta USB bridge, the latest RMP-DAC3EX SPEC DAC and RPA-MG1000 SPEC 300W mono power amplifiers with Pure Direct Connection (no preamplifier needed). All the Pachanko and SPEC gear will use QSA fuses. Speakers were the stunning F-10S from Fyne Audio, a brand proving very popular with the Dutch crowds.
The system was connected with the top cables from IKIGAI audio, the KINZAN line, which features welded connectors for the lowest possible contact capacity. The purpose of this cable line is to transfer the signal from the source to the speakers as transparently as possible.
Chantal Chamberland Chasing Cars was playing in this room and whilst this was a new name to me she really has a lovely voice that this system managed to get across really well.
FINE SOUNDS BENELUX
McIntosh, Sonus faber and Sumiko were advertised as being in this room. Well, if you go to any of the European shows (though not in the UK, it would seem) you are bound to come across the Fine Sounds who distribute McIntosh, Sonus faber and their sister brands.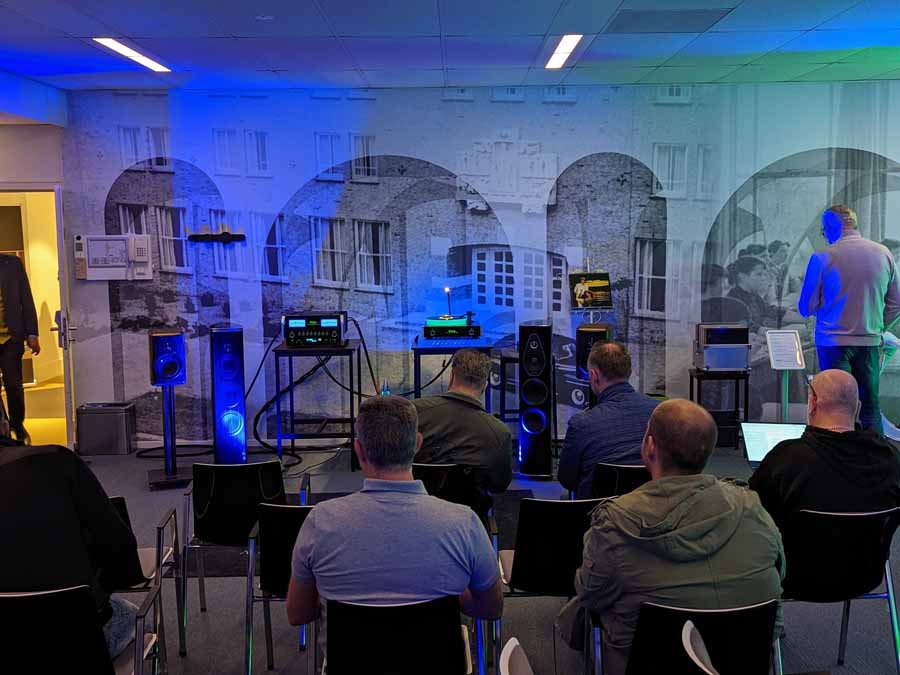 Playing in the room when we first went in this room was the McIntosh turntable, and I think this is the first time I've actually heard this one playing records. The system also included the McIntosh MA9500 amp with either Sonus faber Electa Amator III or Olympica Nova III speakers.
Music playing was Duncan Browne "Wild Places" and it was all very nice, indeed. You sort of do really get why these brands are so huge in the HiFi world – there's a mix of accessibility (if you can afford the entry price) and high-end. I suppose what I mean is that this is a system for people that want excellent sound but without having to get into all the million and one box scenario…and whilst still having audiophile credibility. I enjoyed this room a good deal.
However, the rest of the room was set up with another system and the Sonus faber all-in-one Omnia. The other system, somewhat up the McIntosh and Sonus faber food-chain was the McIntosh C12000 hybrid amp, MCD12000 hybrid CD player, MC3500mkII and Sonus faber Il Cremonese Ex3me speakers.
Overall a nicely put together room that reflected the quality and prestige of the kit that was playing and on display.
SYMPHONY AUDIO IMPORT 
TechDAS, Angstrom, Soulution and Magico – in fact, everyone I bumped into at Dutch Audio Event called this room the Magico room. Looks like Sunday morning is High-End morning for Team HiFi Pig.
Now, I have heard Magico a good few times and what I always take away from their performance is their tight and precise bass performance, though the truth is, I've never been really blown away by their performance. However, at the Dutch Audio Event this is a dynamic and precise system that is about as good as I've ever heard the Magicos sound at an event!
The full system was: Magico M2 €110,000, Angstrom Stella monos €53,000 pair, Stella pre 24,000, Air force 5 TT with Kuzma 4 point tonearm €35,000, dCS Rossini Apex DAC clock (About 45K for the dCS in total).
Gotta love those VU meters on the Angstrom!
Crystal art series van Gogh cable was used throughout this system!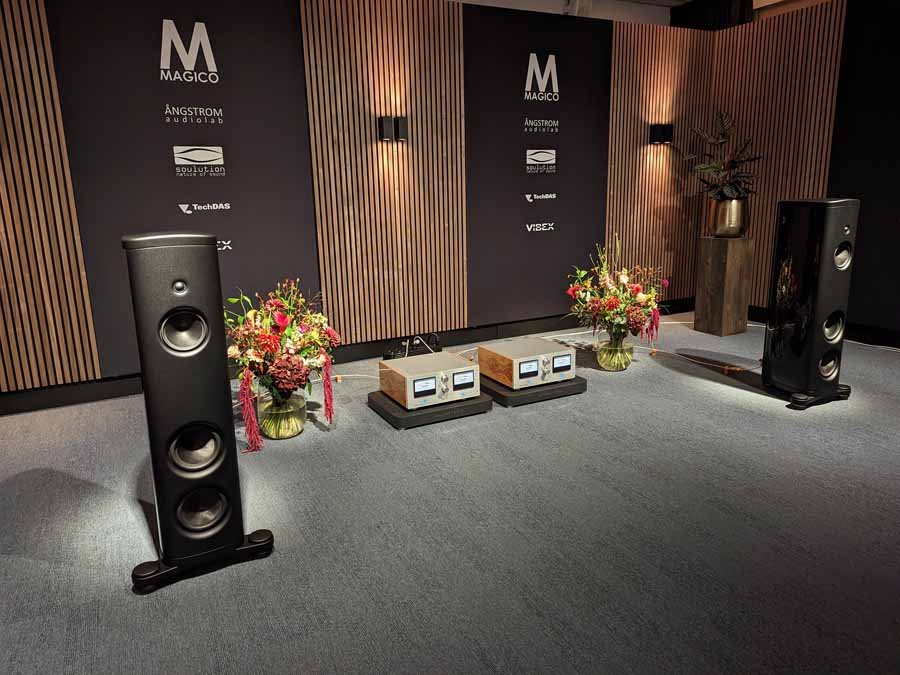 VERY FINE SOLUTIONS 
OK, so when you are setting off to go to a HiFi show you do a fair bit of reading about what is going to be there and where. During this process, you mentally whittle down the stuff you really want to hear at all costs and this room was top of the list for me at the Dutch Audio Event in that regard.

As the digital source, Frank, Martine and the team used the Pink Faun 2.16 server going into the Maximinus DAC. The Dionysus pre-amp fed the Bassus Motional feedback subwoofers. The Thrax Heros amps were driving the Lyra loudspeakers. Cables were Ikigai throughout.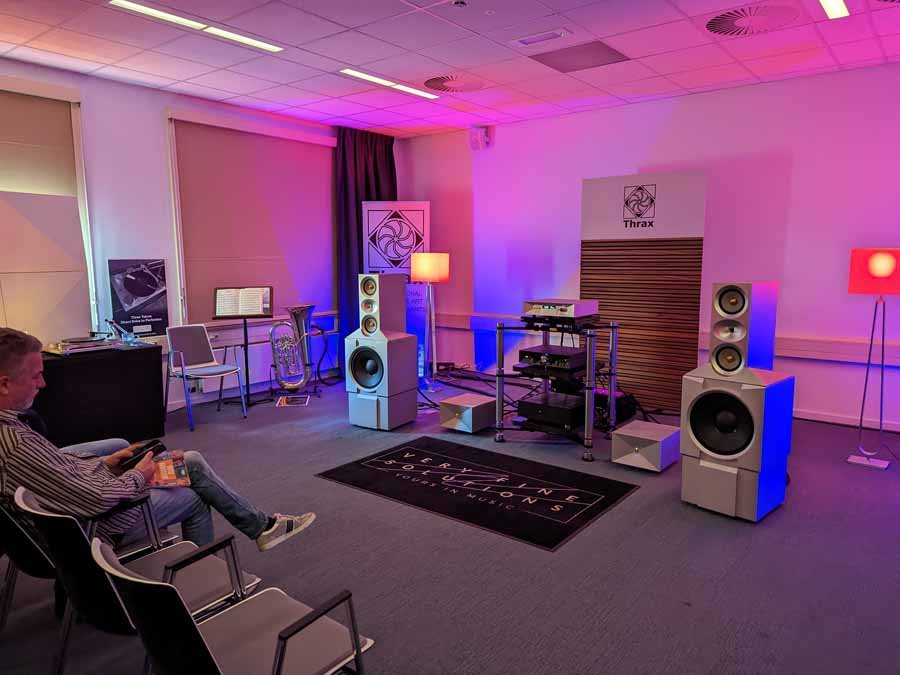 I love THRAX kit – it's bonkers in a good way and totally unapologetically high-end. If you don't know the brand it's from Bulgaria and headed up by Rumen Artarski.
Frank and Martine played Ben Klock at Fabric for us. And this is a good match for these LYRA with Bassus speakers (€60K). You still get the dirtiness of the techno but there is detail in there too…and these speakers go low. They also weigh around 160Kg each, though they are made of solid aluminium. Then played some ambient music on the Hemi-Sync label. Again, what I got from this was the incredible detail, particularly in the details such as the way a beater hits a drum and the decay of the drum. This kind of detail is always there, but it takes a great sounding system to bring it out of a recording and present it in a way that sounds natural and unforced.
HIFIESSE
Gryphon, VPi and Nordost were key features in this room.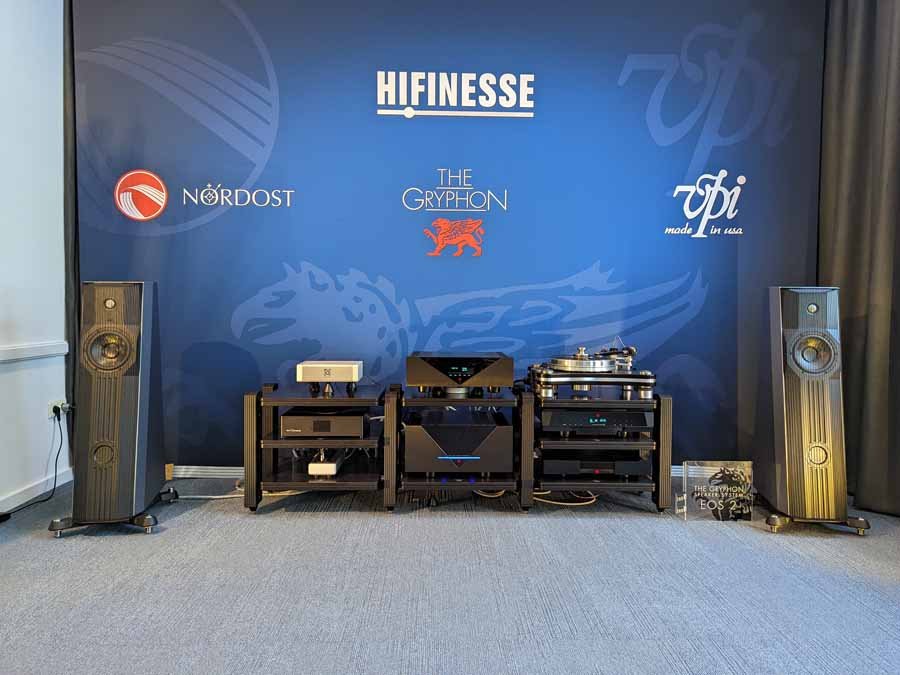 The Gryphon EOS 2 have a Beryllium tweeter and a Composite Sound woofer. This company make carbon fibre products for the F1 industry. This second-generation diaphragm is modelled on a computer to be able to pinpoint where stiffness etc is on the diaphragm. The speakers have three settings switchable from the back and this changes the dispersion of the tweeter. This is a cool feature and allows you to tailor the sound to your room, its boundaries, and the toe in you are able to achieve. The enclosure has a "stealth" design (like the plane) to eliminate standing waves etc. The ported design (front and back) allows front or back port to be closed to enable easy positioning. Again, this is exceptionally cool and useful for integration into the modern home. The price is €20,000 a pair.
Rune played a piano (light jazz) tune and it has to be said that the piano did sound very natural …and the snare hits too.
20K is a lot of money, but for Gryphon this is entry-level and from my way of thinking this is a sensible move on the part of the Danish brand – get the consumer to buy into the brand at a relatively low (ish) price point and they can move up, should they feel the need, at a later point.
RIK STOET HIGH END AUDIO 
The turntable in this room is actually the Takumi Level 3.1 turntable by Rik Stoet.
Line Magnetic valve amplifier (€4000) along with MoonRiver preamplifier.
Speakers were DASL M ONE €3,300 by Rik Stoet and were making their debut at this event. These speakers are thin-walled BBC-type speaker with a paper cone with an Audax tweeter. These are infinite baffle speakers (which in general I really enjoy).
We were played Morning has Broken (again).
Whilst this is nothing revolutionary in HiFi, there's always the argument that "if it ain't broke then don't try to fix it!" and this certainly worked well in this room.
RIK STOET HIGH END AUDIO 
Another Rik Stoet room but this time with Tektron TK-TWO 211-I (€12,000) amp, and KLH Model 5 loudspeakers (€2,990 including stands). Needless to say, the turntable was a Takumi 2.1 DC (€1495) by Rik Stoet and playing through an Audion Phonostage.
The KLH speakers looked old-fashioned and this retro look seemed to be a continuing theme in Rik's rooms.
ACTUAL HiFi
This room had a full Vitus Audio Signature Series line-up along with the debut of the new Avalon PM3.2 floorstanders. An analogue front-end from Kuzma, Tri-Planar, AnalogRelax and Doshi and Studer with cables are from Purist Audio Design, racks and grounding from Entreq, and decoupling from Stillpoints.
Played Daft Punk Giorgio for us and this was good – VERY GOOD!
AUDIOSCAPE – HECO AND SYNTHESIS AUDIO
Heco and Synthesis Audio a40 Virtus with SOtM electronics playing on a system and with Klispch and other static products around the room. The system actually sounded very nice and laid back playing Cat Stevens Morning Has Broken (again) – perfect for Sunday morning, though we'd already had a bit of Infected Mushroom to blow the cobwebs away.
The speakers were HECO Celan Revolution 7, though the Celan Revolution 9 were also in the room for comparison.
Another area of the room had a telly and Oppo playing but sadly I didn't venture in there.
BIGBOYSAUDIOTOYS 
SoundKaos Liberation speakers with Atmosphere MA2 Mk3 OTL amps (€49,000) a Chord DAVE DAC (€13,000), an Atmosphere MP-3 pre (€6,900 with full options).
Played Birds by Dominique Fils-Aimé and it sounded lovely and open as these speakers always have. The distributor told me that they were recently in Switzerland and heard the SoundKAos speakers for the first time and immediately took them on as one of their brands.
You can read the full review of the SoundKaos LIBéRATION loudspeakers here
PURE AUDIO PROJECT 
Now, we bumped into Ze'ev that runs Pure Audio Project in Amsterdam purely by chance – if you follow us on social you will have seen the pics.
Electronics were by AGD Productions. The Audion MK2 monos are a small amp but with a 200W output into 4Ohms. Speakers on the day were the Pure Audio Project Trio15 voxativ AC -X field coil price as is 18,500 € Inc vat and shipping.
Preamplifier was the Andante by AGD. This is an interesting product with DAC, streamer and phonostage onboard. Price is €12,500.
Ze'ev played us Infected Mushroom and those 15drivers really do move some air. However, I sort of expected 15 drivers to be slow and a bit sloppy…none of it, these are tight and as fast as you like. And that Voxativ Field Coil is the icing on the cake. Now the 18.5K price is not bargain basement, but these speakers delivered. What surprised me was that they were in a small room but could be turned up loud and without a whole load of the room getting in the way.
Great sounding room!!!
ROOM 119
MiniDSP, Servolabs, JaPS and Miniot…we just had a quick look in here as nothing was playing.
INNUOS 
Innuos had a smaller room that included the Innuos PhoenixNET audiophile-grade network switch connected to the Innuos PULSEmini  (€999) and PULSE (€2600). An Innuos Phoenix USB reclocker was connected to a Devialet Expert 220 Pro Integrated Amp driving a pair of Sonus Faber Olymica III. Cables and Mains block will be provided by Audioquest and a  TAOC HiFi Audio rack kept all the kit off the floor.
We didn't get the usual Innuos comparative demonstration but the guy doing the dem' did a great job of explaining the Innuos products without getting too far into the techy stuff  – I liked this as I often turn off when things get a bit much.
I got them to play Daft Punk's Contact from Random Access Memories and this was the very last tune I heard at the show – it seemed fitting to have this tune and a very nice couple in the room seemed to be really chuffed I'd asked for this.
What a fantastic way to end a fantastic show.
As we walked back through the foothills of the show (abandoned by our sherpa) back to our room it became apparent that despite the show ending at 4PM there were still a lot of visitors milling about and the exhibitors were continuing to play music and demonstrate their systems. I like this attitude of keeping going – you never know when your next customer will walk into a room.
Overall and as we progressed around the show I got the impression that this show is working up to being much more international in its outlook and that it has the potential to be a bit of a mini-Munich. It has the space, it has the audience and it is located so that it is easy to get to from pretty much anywhere. Let's see how it progresses in the coming years.
Our sincere thanks to the team at the Dutch Audio Show for making us feel so welcome and organising our visit so effectively.
Also a massive thank you to all the exhibitors, each and every one of which had gone to enormous lengths to make their rooms look, feel and sound tremendous.
The Dutch Audio Event is without a doubt one of the best shows we have ever visited!!!
THANK YOU!!!
Another report from Dutch Audio Event 2022 of the rooms we didn't cover here will be published on HiFi PiG by HiFi Pig's Germany and Benelux correspondent Eric Van Spelde.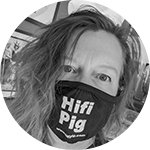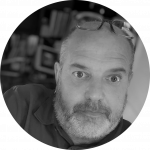 Linette and Stuart Smith
Please note, all content and photos are the copyright of HiFi Pig Magazine/Big Pig Media LLP and must not be copied or reproduced in any way without the prior, written consent of HiFi Pig/Big Pig Media.