DECO AUDIO TRANSFER DAC REVIEW
Deco Audio Transfer DAC is a £549 Digital to Analogue Converter using valves for the output stage with no FETS and no transistors. The DAC is made in the United Kingdom and in this review, Oscar Stewart tries it out for HiFi PiG.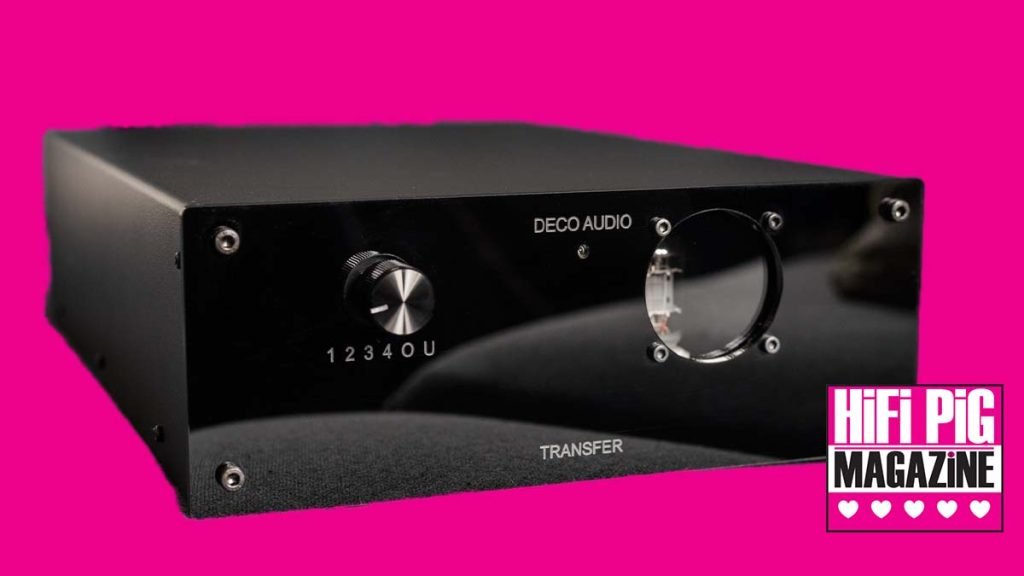 Deco Audio are a retailer based in Aylesbury, Buckinghamshire however, they have also taken the plunge into manufacturing their own range of products to complement their range from other brands. The company undertakes repairs of audio electronics and realised there was a need in the market for high-performance audio products at reasonable prices.https://www.hifipig.com/deco-audio-tranfer-dac/

All their products follow a similar philosophy and for the audio signal path they use simple valve circuits (no transistors or FETs), no global feedback, linear power supplies and pure class A circuitry.
They do measure their products during development, but focus on the emotional connection we have with music; this is their priority. I like this philosophy, so many products are out there that measure incredibly well but there are some that are just lifeless and soulless in my opinion, so it's nice to see a company doing things differently.
The Transfer DAC is their latest release and promises to give you a closer connection to the music you're listening to, by using a non-oversampling R2R TDA1543 DAC chip and all-valve output stage.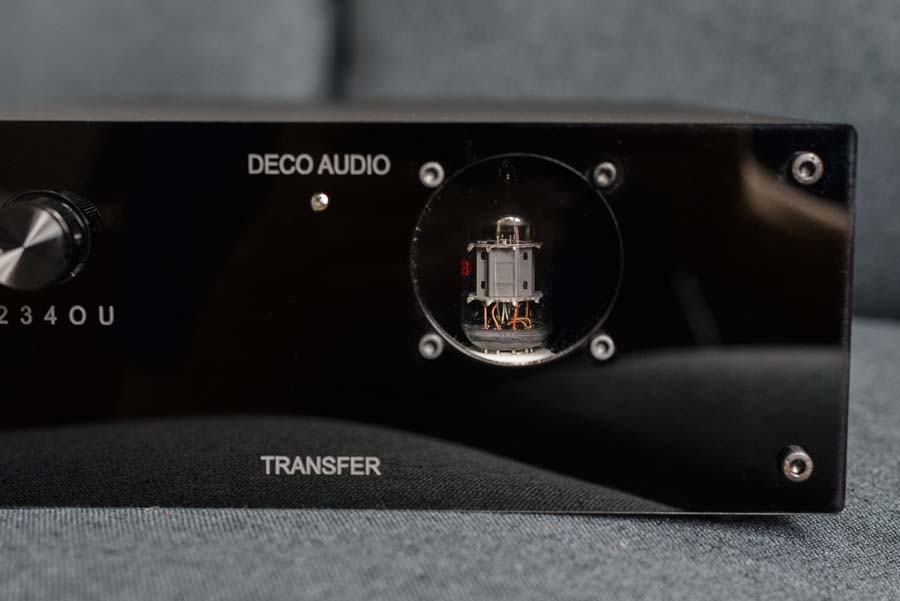 BUILD QUALITY AND FEATURES OF THE DECO AUDIO TRANSFER DAC
The Transfer uses a simple aluminium main chassis which is both lightweight and strong, it also acts as a heatsink for the internal components. The front is embellished with a shiny black acrylic faceplate and a clear window showing off the valves inside (with orange LED to make them more easily visible). 

On the back of the DAC you have all the inputs, 4 Coaxial, 1 optical s/pdif, and 1 USB. There is a single pair of RCA outputs and the A/K switch. Power-wise, the Transfer has an internal Toroidal transformer and a standard IEC socket on the back.

Deco Audio have made the Transfer very versatile in terms of the systems it slots into. They have fitted a switch on the back of the unit that switches between Anode follower and Cathode follower. Anode follower is best for downstream components that have an input impedance of 47kOhms and above, whilst the Cathode follower is best for components with an input impedance of under 47kOhms. There's often an impedance mismatch when fitting certain valve-based products into the signal chain, but Deco Audio has found a way around this, meaning the Transfer DAC should easily slot into most systems without issue.
Deco believes that, within reason, how you process the digital audio signal is far more important than numbers on a data sheet. This led them to using the simple TDA1543 R2R (ladder resistor) DAC chip and running it without oversampling or upsampling. This does mean you are limited to 16-bits and 96kHz via S/PDIF or 48kHz via USB, but from my experiences with digital audio so far, I cannot say I have heard credible evidence that "high-res" audio makes any audible difference over 16/44.1 – YMMV!
This DAC was very easy to set up and doesn't seem to need a lot of time to warm up like some valve equipment. It also doesn't seem to run very hot; the top gets mildly warm but it is still best to avoid placing any equipment directly on top of it.
Also, for those of you like me who enjoy valve rolling, the Transfer has socketed ECC82 and ECC83 valves so they are super easy to swap out to something different, which will, of course, change the flavour of sound. I'm hoping to have a tinker soon with some other valves if I can, to see what these can bring to the table.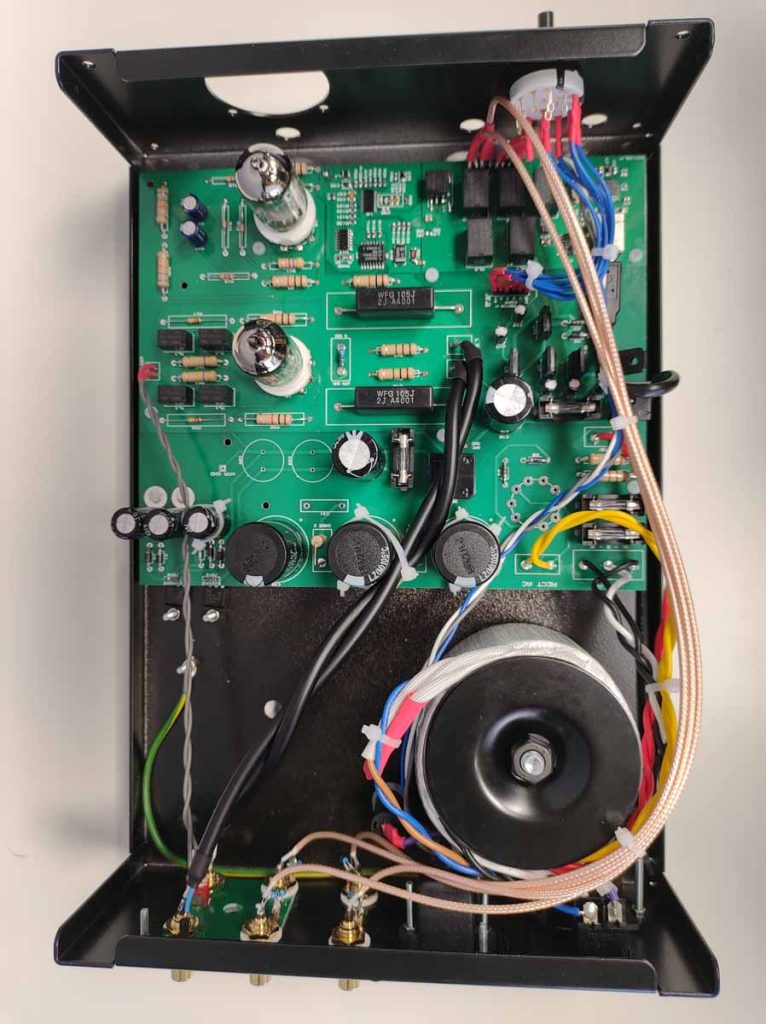 SOUND QUALITY
I've been using the Deco Audio Transfer in my main system that uses a passive pre-amp (10k pot) into a Rotel RB-1050 then using QED XT25 cable into a pair of Bowers & Wilkins CM8 speakers. My main DAC is the JDS Labs Atom DAC+ which is a budget DAC, but one that is very clean and linear. Due to my system, Cathode follower mode is recommended. I tested both modes and Anode follower sounded just fine, but was lower in volume (due to the impedance mismatch). For testing purposes, I hooked both DACs up to my Gigabyte mini-PC running Roon Rock – this allowed me to group them and A/B back-to-back.
To start with I thought I would try one of my usual test tracks, Trains by Porcupine Tree, and to be honest, if you were expecting the warm, lush, and laid-back sound of valves then this might not be the right DAC for you. Don't worry though, the Transfer is not boring and there is a slight hint of added body to the sound that is highly addictive. The lower bass region makes kick drums sound a little more impactful, but without added bloat, they come across more realistic and natural whereas my reference DAC sounds a little tighter and more controlled down low.
The soundstage is a little wider when using the Deco Audio Transfer and the sound seems to fill the space more easily but without losing focus. The treble is still wonderfully crisp, but it does sound as if the sharper edges of certain notes are just toned down a tiny bit when compared to a more flat-sounding delta/sigma DAC.
Evanescence – Lithium sounded beautiful through the Transfer DAC. The initial piano intro was tonally more enjoyable than the more clinical JDS Labs Atom DAC+. Vocals, whilst not changed massively tonally, seemed to tighten up within the soundstage having more accurate placement and better presence. This allowed for more space within the soundstage, giving it an airy but well-defined presentation.
Chocolate Chip Trip by Tool is essentially one big long drum solo, but it is incredibly well mastered and the use of stereo imaging is fantastic. The Transfer DAC once again shows a little more impact, but also a deeper and wider image than my reference.
Polyphia – Playing God really tests the composure of a system and suffice it to say the Deco Transfer managed to keep a tight grip of the track with excellent layering, and subtle details were not lost or veiled. There is a great sense of depth to this track and the JDS Labs sounded overall more controlled and cleaner. However, the Transfer was more articulate and expressive in its presentation. Detail-wise there really isn't anything in it between the two, it is more of a difference in the way the sound is delivered rather than a technical advantage.
I have also been using the Transfer DAC paired with the iFi NEO Stream via Coaxial, along with using my Marantz CD-52 via Coaxial. Both devices benefit from the quality of the Deco Audio Transfer. The iFi sounds very natural paired with the Transfer and brings music up to a level where there is plenty of detail, yet it's presented in a very natural way. The internal analogue output of the NEO Stream is already good at this, but the Transfer takes it a step further.
The sound of the Marantz CD-52 with its bitstream conversion is super smooth, perhaps a tiny bit veiled, but the Transfer (luckily) doesn't suddenly make this warm vintage CD player sound like a modern linear one. It extracts a hint more detail from the sound, which is a benefit, but it retains that smidgen of smoothness that is highly enjoyable in a subjective way.
Playing Anathema – A Simple Mistake, the Marantz/Deco has a sense of effortless flow and the vocals are extremely well placed within the mix. It doesn't sound as smooth as the Marantz via analogue outputs, but there is more space and resolution which is a welcome addition.
I'm impressed at the way the Deco Transfer manages to be a clean and detailed-sounding DAC without compromising on its core design principle, to bring you closer to the music in an emotional sense. For those who chase numbers on paper, this really isn't the DAC for you, but for those of us who just want to sit back and enjoy the music, this really does bring a lot to the table.
QUIBBLES
Personally, I prefer the natural glow of valves, so the internal LED is a little too much for my tastes, and that acrylic front plate does scratch very easily. Aside from that, I don't really have any issues with this DAC.
CONCLUSION
Deco Audio have a great philosophy if you want to enjoy the music and the Transfer DAC is an excellent example of this. It is not for those who strive for absolute neutrality, yet it also doesn't veer into the overly warm and thick sound of some valve-based equipment. It straddles the line between being clean and being natural very well and is an absolute joy to listen to in a subjective way.
The fact you can change between Anode follower and Cathode follower means this will slot into most systems with ease.
If you want a DAC that's very easy to listen to, looks great and won't cost you the earth, you can't go far wrong with the Transfer – as long as you're not a high-res audio fanatic.
AT A GLANCE
Build Quality And Features:
Solid build with a metal chassis and acrylic front panel
The input switch and all the plugs on the back are solid
Sound Quality:
This is a fatigue-free and wide-sounding DAC with a hint of tube warmth
It has very good detail retrieval and control yet presents the sound in a very natural way
Value For Money:
Built in the UK with good quality components, this is exceptional value for a valve output-based, non-oversampling, R2R chip DAC
We Loved:
The sound and the aesthetics, it was also very easy to setup
We Didn't Love So Much:
The orange LED is a little too much, I like to see the natural glow of the valves.
Elevator Pitch Review: Looking for a well-built, natural-sounding DAC that is a little different to all the Delta/Sigma models out there, well the Transfer might be right up your street. Offering up a fatigue-free sound in a lovely-looking package with a versatile valve output stage, the Transfer is a superb DAC for the price – and it's hand-built in the UK.
Price: £549
Oscar Stewart
SUPPLIED SPECIFICATION:
Inputs S/PDIF 4 x RCA and 1 x Optical (Toslink), 1 x USB-B
Sampling Rate: maximum 96kHz via S/PDIF & 48kHz via USB
Weight unpacked 3kg
Weight Packed 4.2kg
Dimensions: (excluding connectors) 345mm Deep, 230mm wide, 95mm high
Rating: 5 Hearts