Daniela Manger is the CEO & owner of Manger Products. She has involved in Hi-Fi, electronics engineering & Pro-Audio markets almost since she was born due to family interests. Based on their unique Manger MSW/Sound Transducer their current portfolio includes Reference Active Monitor (MSMc1) & its floorstanding version (MSMs1), plus other accessories which help to evaluate the musical results in both the Hi-End & Professional markets.
  Your History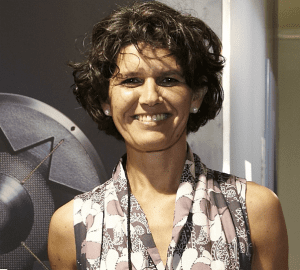 How did you get into/what was your first job in the industry?
Manger was always a family business. The development of the Manger Sound Transducer accompanies me since my childhood. After my degree in electrical engineering, I directly got in to the family business and overtook the company.
Who or what was the biggest influence on your career?
My father
Proudest moment/product you're most proud of?
When my father was honoured with the Diesel Medal in 1985 + the International Design Award in 2012 for our MSMc1Reference Active Monitor.
You and your system
What was your very first system?
The Manger Diskus (built from 1978-86), a Denon POA, a Panasonic Turntable with an SME
Tell us about your system history
The speakers: all the development steps, done by us during the last years, Turntable always remains, various CD Players and DACs.
What component/product do you miss the most/wish you had never got rid of?
The Manger Diskus
Best system (or single component) you have ever heard (no brands you represent please…!)
Avalon speaker
Tell us about your current system(s)
The Manger MSMs1 with a Zodiac Gold DAC fed by a Macbook pro, music stored on SSD
The state of the industry
What's your view on the valve renaissance of the past 20 years or so?
I have no opinion on this. It is a matter of taste and in general it compensates footprints created by other parts of the chain, mainly the footprint of a speaker
What are you views on the state of the industry/where is it going/what will it look like in 5 years/what will typical systems look like?/What will happen to prices?/What will happen to the high end – will it carry on regardless?
There will be a big change, because the younger music lovers grow up differently, so the typical system will look like a computer/streamer with an external dac and active speakers. I assume the classical way of purchasing through dealers will change and through the transparency of the web, prices can be compared all around the world
What are the industry's biggest con(s)?
Honestly speaking the price policy.
The way you work
Presuming the measurements are fine, what do you listen for when assessing products?
All styles of music and sounds – for this we created a Manger CD sampler, with excellent recorded tracks like bell ringing, an audio drama, various kinds of music.
Your sound preference -'Smooth, listenable musicality', 'forward, driving, 'foot-tapping', involving sound' or 'detailed neutrality and transparency'?
The natural combination of all of this makes the most enjoyable music listening.
Your preference – Full-range floorstanders or freestanding mini monitors with a sub?
Physic matters, so floorstanders with a smart design to satisfy the WAF;-)
It's all about the music, man…
What is your favourite recording?
A Denon recording: Gelber/Beethoven (one-point recording)
Tell us about your 3 most trusted test recordings
There is only one, our Manger CD Sampler
What are your most embarrassing recordings/guilty musical pleasures
Amy Winehouse – Back to black
Having safely ushered  your loved ones out of the house as it is burning down to the ground, you ignore all standard safety advice and dash back inside to grab just one recording – what is it?
May I grab two: Oscar Peterson Trio – We get requests; Michael Jackson – Thriller.