It's been a while since I listened to a good low-watter valve amp, the last one being the amazing Horning Sati; 12 watts of Pure Class A SET amplification.  It was bliss and the output figures totally belied what it was capable of.  Since then, I've listened to or owned a few interesting valve amplifiers and having recently being given the opportunity to listen to the Consonance Cyber 10 Signature, I jumped at the chance.

Consonance are a relatively small specialist Chinese company, but don't let that put you off, as their standards are high and their kit has won widespread acclaim world-wide.  Their quality control seems peerless in China, as do their technical standards and attention to detail.  Having auditioned their Droplet and Mini-Droplet CD spinners, and falling head over heels with the build and the sound, I ended up buying the CDP3.1 and have never looked back. It was with a little nervousness that I took the opportunity to review the Cyber 10 Signature as I knew that both the bank manager and wife would be none too pleased if I repeated my last performance with Consonance kit…
On arrival, I was struck immediately by the weight as the delivery man hefted quite a large box across the threshold.  The Cyber 10S weighs in at a reasonably hefty 55 lbs (25Kg) and upon unpacking, it's plain to see that build is solid and rather refined.  Little touches matter, as they demonstrate the manufacturer's attention to detail and if they've taken trouble on the outside, then chances are they have internally as well.  Whilst not up there in the premier league, the amplifier is well finished and quite attractive with it's Beech wood topped casing over the transformers, little LED indicators for the input selection and quality knobs and casework.  Around back, there are ample high quality gold plated RCA sockets and twin 'speaker binding posts as well as the power IEC socket.
For the technical minded, the amp' uses a quad of 2A3 triodes, configured in push-pull mode to give 11 Watts of Class A power.  This is quite a clever move on Consonsnce's part as in SET mode (ie a single output valve per side) the output would be nearer 3.5 watts but as it stands, the little Cyber 10 will have enough current on tap to drive a multitude of loudspeakers plenty loud enough.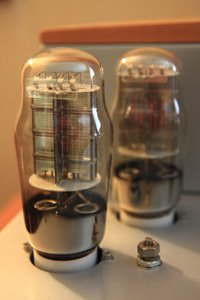 They do advise though that it's used with 'speakers of sensitivity over 90 dB/1w for best performance and dynamics.  The 2A3 valves are close relatives of the venerable 300B Triode except that the former use direct AC heated filaments at 2.5v.  At this voltage I was assured that mains hum through the 'speakers wouldn't be a problem, and if it did intrude, then there are separate trim pots located by each output valve to adjust things.  The pre-amp stage is taken care of using one 6SN7 and one 12ax7 valve per channel.  The amp is also self biasing so promises to be a tube-roller's delight.
Once in place, and the power switch flicked on, I left the amp to warm up for ten minutes or so.  The review sample was fitted with top of the range TJ 2A3 mesh-grid output valves and they certainly lit up nicely.  As the loudspeakers used are particularly sensitive I was expecting some hiss, but even on turning the volume up full, there was hardly any at all which is pretty remarkable and proves that this is one very quiet circuit.  The expected hum was present though but at a very low level, so I left the trim pots well alone.  It's obvious that Consonance have gone to a great deal of trouble to keep the circuit as quiet as possible to extract every ounce of headroom that the amp is capable of, and once again, the assumption that the attention to detail on the outside might be replicated inside was looking to be about right.
The controls are pretty simple and intuitive much like the rest of the Consonance range.  You get an input selector switch and a volume control and that's it.  I would have like to see a balance control too but minimalist is fine.  The only quirk I found was that the selector switch works back to front.  Turn it counter-clokcwise and the selector indicator leds light up left to right and vice-versa.
Sound Quality
Preconceptions cannot and do not prepare you for what your ears are about to receive.  Unlike the opinions of some reviews that I've read on this humble little amplifier, bass is astonishing.  Spinning up Massive Attack's Collection (track 3 – Angel) had the windows rattling in the breakfast room some 30 feet behind me and you could really feel the bass impulses in the gut. Mid range, especially with operatic vocals is sublime. Very well projected but without ever appearing too smooth in the sort of honeyed colourful way that some SET amps can sound. Rock is fabulous too, somewhat surprisingly so. Attack and rhythm seem to be spot on.
What impresses is threefold:  Firstly, the dynamics are truly startling, with a huge sound stage and dynamic range.  Secondly, bass is incredible for such a lowly output figure although it's true that it lacks ultimate control and extension compared with the most powerful SS amplifiers.  Don't let this put you off though as it goes mighty deep enough to satisfy even Reggae fans.  Finally, that tone across the frequency spectrum invites clichéd and coined phrases such as "sublime" and "beguiling" without ever sounding overly coloured.  In fact, it's possibly more neutral sounding than many 300B's I've heard and with a good deal more punch.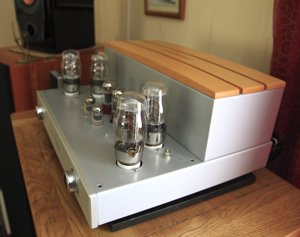 If I have any niggles, it's that the highest frequencies started to unravel a little bit on some tracks, not being quite so clean as expected on well known tracks, but this was partly to me listening for faults and only just hearing a few.  What may not have helped was that the review sample seemed to be using different 12ax7 valves in each channel, so to be fair, a new set of Tung Sol 803s 12ax7's are on order for re-evaluation. Don't get me wrong, the treble never grated nor was it peaky in any sense and was certainly well extended; it's just that on the odd track it drifted from the purity of tone generally experienced.  If anything, this may have been more the recording than the amplifier though.
One thing that was apparent and very welcome was that those huge dynamics put you up front of the stage. Instruments have real decay, albeit without the ultra-transparency of the best, but very, very close. There's space around instruments too, making picking out individual musicians a breeze on simply recorded pieces.  Orchestral music is handled with aplomb and the amp never seemed to get flustered no-matter how complex the piece.  If anything, this amp sounds bigger than most 50 watter SS designs or 40 watt push-pull amps I've heard and certainly plumbs the depths more.
Conclusions
I'd say that in this case, the amp' and 'speakers were a perfect match, and like all valve amplifier and loudspeaker matches, you'd have to audition on your own kit before deciding to buy.  Treble could be a little cleaner at the extremes on some tracks, but for the most part was clean and well extended.  Mid range was utterly sublime as one might expect from an amp' of this type but the biggest surprise of all came in the bass performance. It was huge, big enough to underpin all genres and give a sense of realism seldom found without compromise.  Some amplifiers have punch but are a little detached and throw that punch all at once, some have bass but it's soft and squidgy and detracts from the music, whereas this one is simply there, in bucket loads and with genuine depth and beautifully integrated.  For the princely sum of around £1800, I'd say that this amplifier is without doubt a true high-end contender, indeed it threatens amp's costing many times more.  More to the point, it seems to be an amplifier that allows you to settle into the music without listening too much to the kit, and draws you in with that awesome sense of scale and realism.  In short, its one of those rare beasts that once in place is very unlikely to move for a very very long time.  Unfortunately for me, I was that smitten that I've now got some explaining to do…
Technical Specifications
Weight: 25kg
Dimensions: (wxHxD) 340x200x430 mm
Output for speaker : 4 ohms , 8 ohms
Output power : 11 W x 2 RMS 1kHz
Input Interfaces : 5 set (RCA)1,2,3,4,5
Output Interfaces: 1 group (RCA)
Power consumption: 80W
Vacuum tubes: 2A3 x4, 6SN7 x 2 , 12AX7 x2
Author – Paul