Pro-Ject Audio Systems, the Austrian manufacturers of turntables and electronics, has announced the imminent availability of a new turntable series The T1 will be the first turntable in a new budget-orientated T-Line range.
The T1 turntable was teased at this year's Bristol Hifi Show by their UK Distributor, Henley Audio.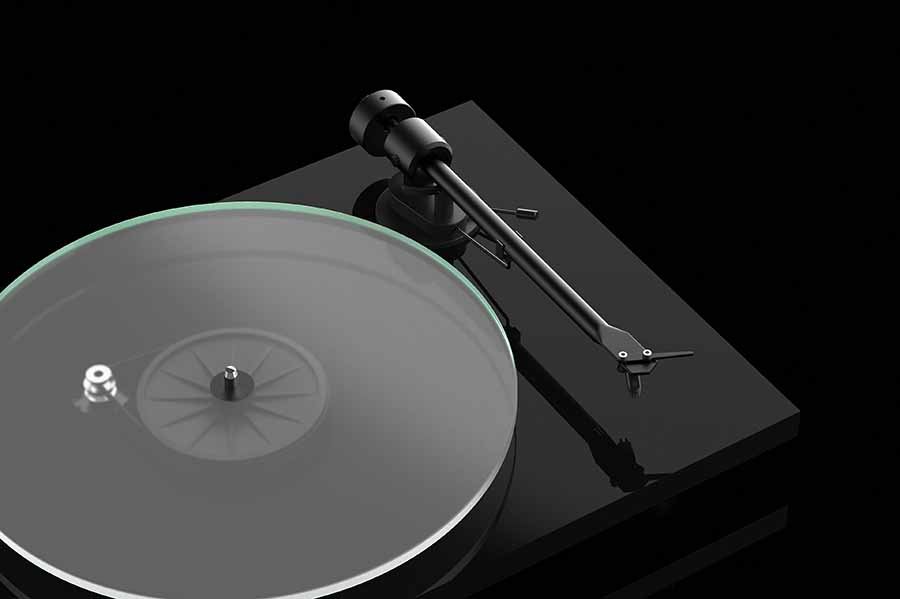 CNC Machined Plinth
The T1 is based around a stylish CNC-machined plinth featuring no plastic parts and carefully manufactured to ensure there are no hollow spaces inside, avoiding unwanted vibrations within the finished product. Mounted inside the plinth is a precision belt drive system, attached to a newly designed sub-platter, for stable mounting into the stainless-steel axle/brass-bushing main bearing, the same bearing featured on the Essential III turntable. The sub-platter drives the new heavy, zero-resonance glass platter.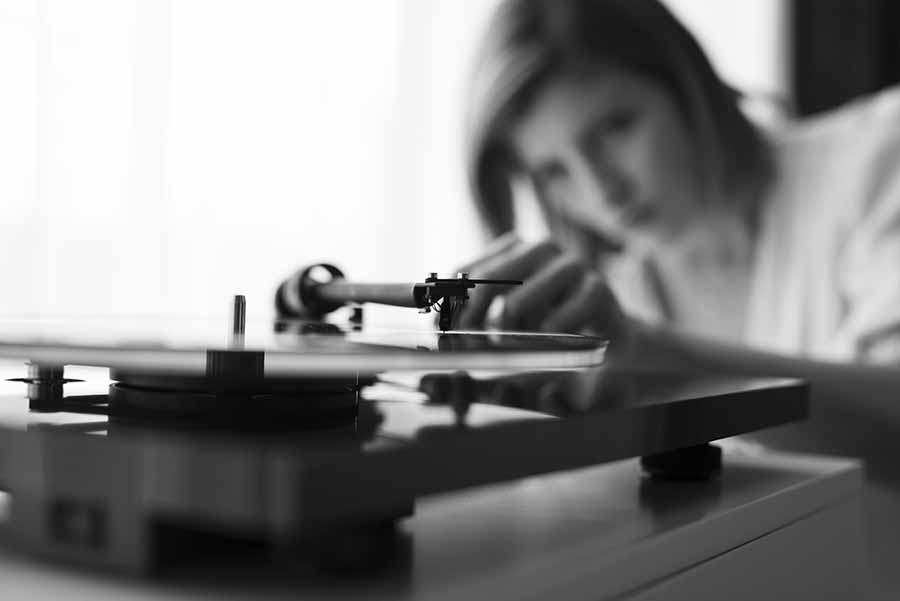 8.6" Tonearm
The tonearm on the T1 is a new 8.6" model featuring a larger one-piece aluminium tube and an improved gimble bearing assembly with low-friction components for total accuracy in use. Mounted with an Ortofon OM 5E cartridge with an elliptical diamond stylus for great sound, the tonearm is also pre-set for downforce and anti-skate settings, so there's no need for any complicated set-up; you can get playing straight out of the box.
Finish Options And Output Versions
The standard T1 (£239.00) is finished with properly shielded, semi-symmetrical, low-capacitance phono cables, designed by Pro-Ject, fixed to the turntable underneath the tonearm. It has a standard phono output, for connecting to a phono stage.
The T1 Phono SB (£289.00) features a built-in speed control for automatic switching between 33 and 45 RPM, and a switchable Moving Magnet phono stage, so you can connect directly to a LINE level input or still make use of an external phono stage.
The T1 BT (£289.00) features a switchable Moving Magnet phono stage with Bluetooth transmission so you can output at Line level, Phono or wirelessly via Bluetooth. All T1 versions are available in three finish options; Gloss Black, Matte Walnut or Matte White, and are supplied with all the necessary set-up accessories, a felt platter mat and a detachable dust cover in the box.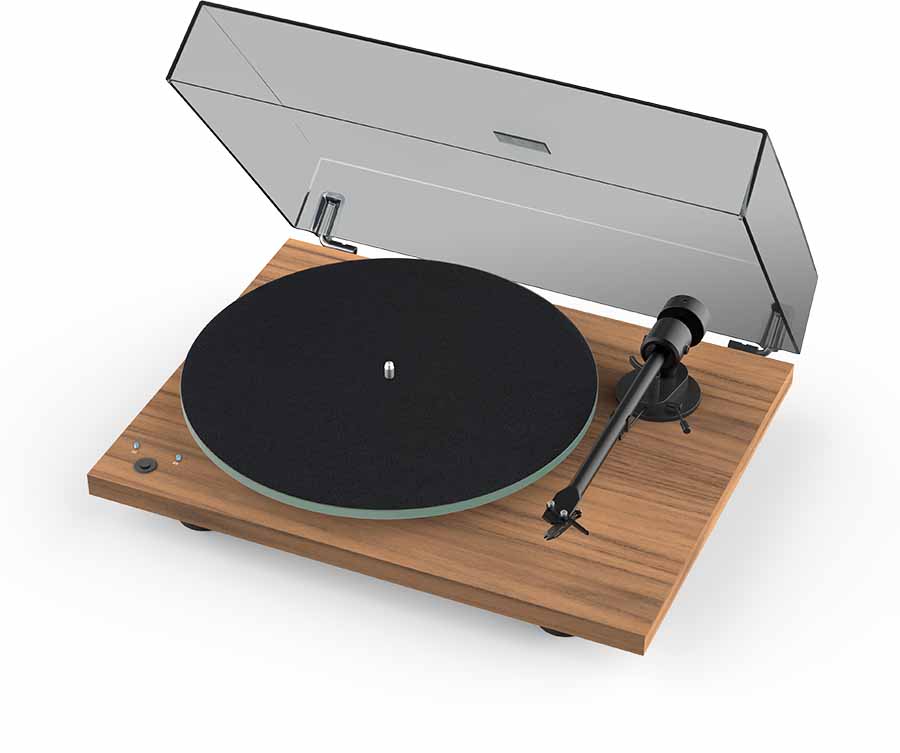 Technical Information
Speeds: 33 & 45 RPM (manual speed change, except T1 Phono SB)
Drive Principle: Belt Drive
Speed Drift: 33 = 0.70% / 45 = 0.60%
Wow & Flutter: 33 = 0.25% / 45 = 0.23%
Platter: Heavy 8mm Blasted Glass Platter
Main Bearing: Stainless Steel Axle / Brass Bush
Signal-to-Noise: 65dB
Tonearm: 8.6" Aluminium
Effective Arm Length: 218.5mm
Overhang: 18.0mm
Effective Tonearm Mass: 8.0g
Counterweight for Cartridge Mass: 5 – 10g
Tracking Force Range: 0 – 50mN (pre-set to 17.5mN for OM 5E)
Output: Phono level only, captive RCA leads (T1)
Switchable phono/line level, RCA leads (T1 Phono SB)
Switchable phono/line level or BT, RCA leads (T1 BT)
Included Accessories: Dust Cover, Felt Mat,
RCA Cables (T1 Phono SB and T1 BT only)
Power Supply: Captive mains lead for UK use (T1)
Detachable power supply (T1 Phono SB and T1 BT)
Power Consumption: 3W max.
Dimensions (W x H x D): 415 x 100 x 335mm
Weight: 3.8 kg