McIntosh Laboratory has launched a new control app for its recently launched media streamer the MB100 Media Bridge. The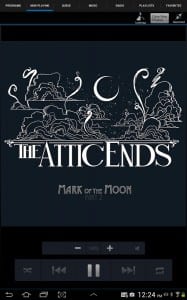 McIntosh Media Bridge app allows users to fully control and operate the new MB100 Media Bridge streamer, launched in the UK in late September.
The MB100 Media Bridge music streamer combinines huge internal storage with a wide range of inputs. It has four USB inputs, plus an eSata port for the direct connection of external drives and its high-speed network port offers direct connection to online streaming services.
The new McIntosh Media Bridge app allows full control and operation of the MB100 Media Bridge and allows users to access and play locally stored digital music libraries, as well as music from favourite internet streaming services such as: Pandora®; SiriusXM®; Spotify®; Rhapsody and TuneIn (where available, subscriptions may be required).
McIntosh's Music Stream music player app comes preloaded as a favourite, so users can instantly access 24/7 audio streams.
Full control over the MB100 Media Bridge streamer
Advanced queue management: simply tap the '+ ' sign in the music menu to add the selection to the queue
Create and edit radio stations through Pandora® using TuneBridge
Listen to custom radio stations with Pandora® Internet Radio
Listen to thousands of radio stations around the world with TuneIn Radio
Stream SiriusXM satellite radio subscriptions via broadband
Listen to thousands of titles with Spotify®
Play favourite albums through Rhapsody