EVERSOLO DMP-A6 REVIEW
Oscar Stewart takes a listen to the Eversolo DMP-A6 Streaming DAC costing £759.
Eversolo is the sister company to Zidoo, which has been around for a few years now making various audio-visual products. They launched in 2014 and since then have focussed on making consumer electronics products with ARM multi-core processors at their centre. Fast forward to Eversolo and they have decided to dive into the audio world, their range consists of a standalone DAC, Headphone amplifier, a couple of portable dongle DAC/Amps and finally the DMP-A6 Streamer/DAC we have here.
Eversolo prides itself on producing excellent quality products at reasonable prices, so can the DMP-A6 hold its own in the world of music streamers, or is it just a jack of all trades and master of none?
FEATURES AND BUILD OF THE EVERSOLO DMP-A6
So where do we start? The DMP-A6 has so many features it's easy to get lost in them, but when setup you'll find yourself using probably only a fraction of them.
First up we have the streamer side of things. The DMP-A6 accepts wired Ethernet or Wi-Fi to connect to the internet and once connected many devices will see it on the network and you will be able to start streaming straight to it. Personally, I use Roon as I have a core that has a mix of CD rips and Qobuz streaming and Roon found the DMP-A6 very easily and the whole connecting process was very straightforward.
The Eversolo runs on Android, and the firmware receives frequent updates. Running on Android allows you to sideload apps (apk files) onto the device, the front screen might not be huge but it is functional and easy to navigate around apps.
There is a dedicated Eversolo app which allows you to control most of the features of the streamer. For example, in the settings, you have the different DAC filters, fixed or variable volume, brightness of the display, knob lighting and much more. The DMP-A6 also has a slot for an M.2 SSD for loading your own music onto, along with USB ports for attaching external storage, allowing it to become a central playback unit.
The DMP-A6 features 2 x ESS 9038Q2M DAC chips inside, one for each channel, allowing for better separation, better signal-to-noise ratio, and increased dynamic range. The internal streamed signal goes through these, as do the digital inputs – of which you will find optical, coaxial and USB inputs alongside Bluetooth too. The built-in DAC allows for a fully balanced signal to be outputted to the XLR outputs on the rear but there are also RCA outputs for those with single-ended equipment. Both analogue outputs can be configured to be fixed level (line-out) or variable (pre-out).
If you do not wish to take advantage of the excellent internal DAC, the DMP-A6 will output digital coaxial, optical, USB and HDMI audio. There are, unfortunately, no analogue inputs on the DMP-A6, which means those running turntables or tape decks will still need another pre-amp in their system.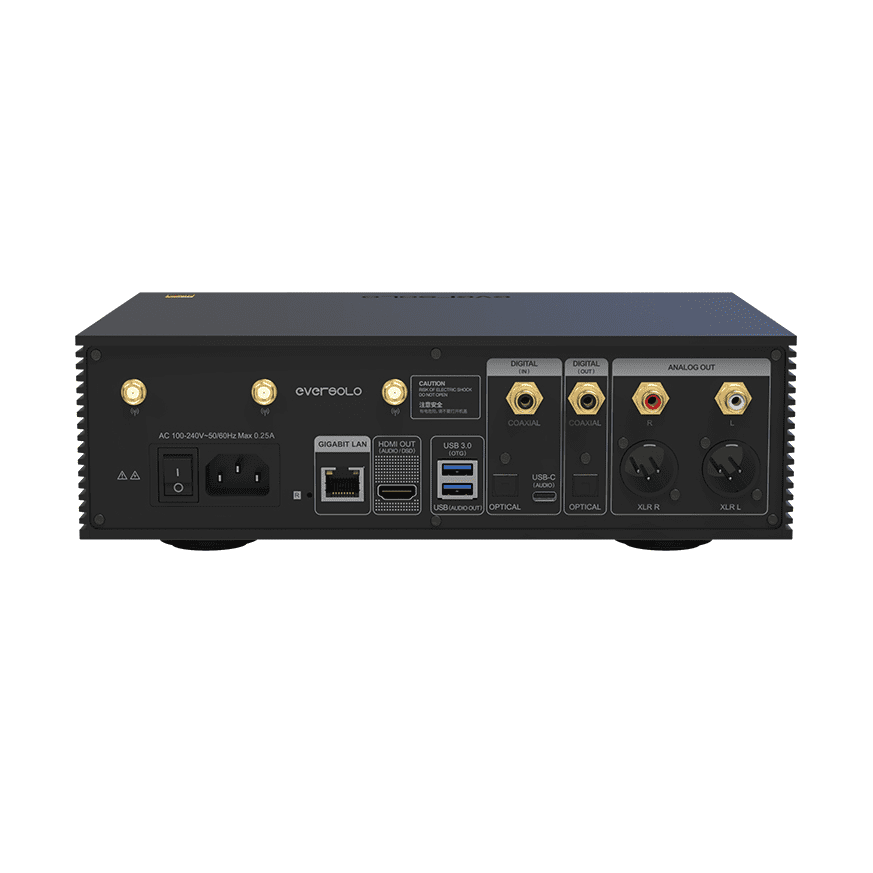 This unit runs off a standard IEC cable, but the internal switch-mode power supply has a few tweaks to keep any mains noise at bay. This includes a choke filter alongside audio-grade components and it's nice to see they didn't forget the smaller details.
Build quality is superb! The chassis is very well-finished and the device is of a good size to fit into most systems. The front screen is clear and bright and easy to use, it's also responsive which is great for navigating through the menus. The inputs and outputs on the back are all extremely good quality and the front knob also feels great to use.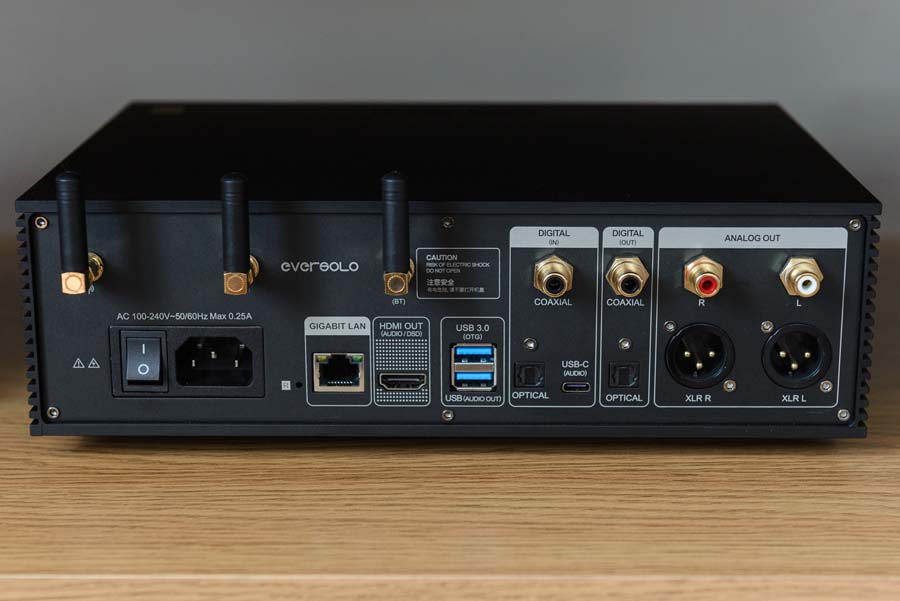 FUNCTIONALITY
The DMP-A6 is compatible with most streaming services and you can get these playing with ease. Switching to the digital inputs is also easy from the internal menu system or the app. There is a new Bluetooth remote that has also been released, allowing for easier control when sat further away from the unit.
The native app also supports local playback from files stored on either an M.2 SSD (that you can fit into the bottom of the streamer) or an external drive plugged into the USB port. It has been noted that the DMP-A6 is not the speediest of streamers when using locally stored files, and sometimes the album artwork takes a while to load.
Setting it up with Roon was a doddle and I was up and running quite quickly without any hiccups, but I know not everyone wants to use Roon so it's handy it works with other services easily.
All-in-all the DMP-A6 is a very feature-packed, yet intuitive-to-use streamer that most people should find easy to get their heads around. But there's no point in having all this functionality if the device doesn't sound very good, so let's dive into that now.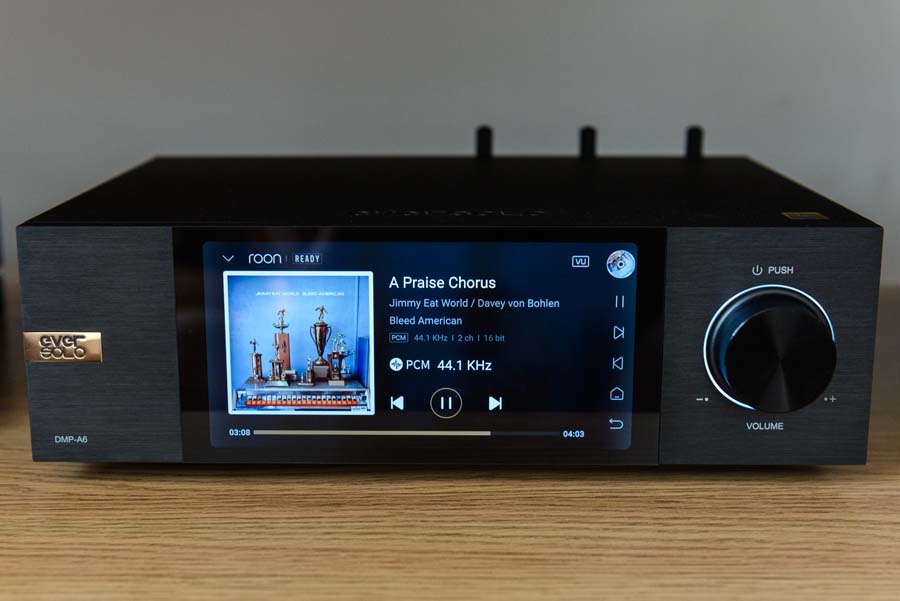 SOUND OF THE DMP-A6
I've been getting my ears around a few streamers recently and it's really interesting to hear the differences between them. There are people who believe "DACs all sound the same" but I can assure you they do not. From the chip used, to implementation, to the analogue stage and power supply all these parts can and certainly do make a difference.
Luckily, Eversolo has stuck to a tried-and-true formula with the DMP-A6. Their implementation of the ESS 9038Q2M chips is one that doesn't come off overly analytical or clinical, yet still doesn't stray into the warm and laid-back category either. When you play music through the DMP-A6 it gives you a presentation that is believable, detailed, and clean. It has a tight grip on the music, never sounding slow or sluggish, yet it avoids being harsh and also avoids the so-called "ESS glare" that really is a thing of the past.
It is a streamer that doesn't try to colour the sound too much, and it really isn't overly noticeable in the system in terms of what might colour the sound, but it does have a typically linear presentation. It sacrifices a little warmth in exchange for a more tonally neutral sound that works well with most carefully put-together systems. It's not the last note in organic sound, however, I never found it to come across as harsh or hard-edged either –  it just kind of does its thing of presenting the music in an unconstrained and open way.
Amy Winehouse's Back to Black is gritty and nuanced with the DMP-A6 allowing you to hear all the subtle details in the recording without sounding too clinical. It has good scale and the placement of instruments is accurate and never does it sound like there is a lack of dynamics. I decided to see how it handled something a little different and put on Electric Callboy – Hurrikan. The first half of the song is punchy German tekno transitioning into heavy metalcore halfway through. The DMP-A6 shows how it has an excellent grip on the sound, easily separating the kicks in the second half of the song and delivering the track with the energy it deserves.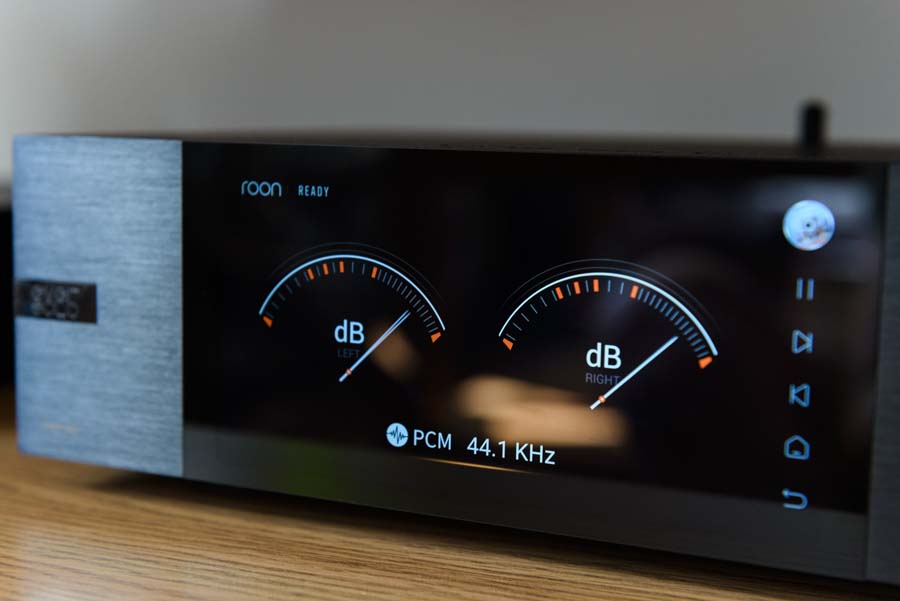 I may have been spoiled by the iFi Audio Neo Stream I reviewed before the DMP-A6, and the Neo Stream still has the upper hand in audio quality in terms of timbre and insight (as it should for the price). The Eversolo has that slightly dry and more linear sound that won't work in every system, and I've found myself (subjectively) leaning more towards a natural sound that just makes you get lost in your favourite tracks.
When listening to Gabrielle Aplin's Home, for example, her vocals are stunningly detailed and it is a beautiful song. However, this is a song that needs to be portrayed with emotion and I found the DMP-A6 to be a little too clean to sound utterly convincing. Though the vocal harmonies are not lost and it's easy to hear all the layers in the recording. There is a great sense of air and separation going on, however, the harmonics from the piano are a little muted.
The great thing about the DMP-A6 though is that you can simply run it into an external DAC if you wish and you have a lovely streaming front end with the back end of your choosing, and I cannot take points away from the Eversolo for being neutral in its presentation.
You can also easily run your CD player or other digital transport into the DMP-A6 and take advantage of the exceptionally clean internal DAC and pre-amp circuits. It works very well as a digital hub for streaming and DAC duties and is excellent as part of a headphone system running it into an external headphone amplifier.
The flexibility of the Eversolo DMP-A6 is truly impressive and there are so many ways it can be incorporated into a system that it's hard to find somewhere it won't work well.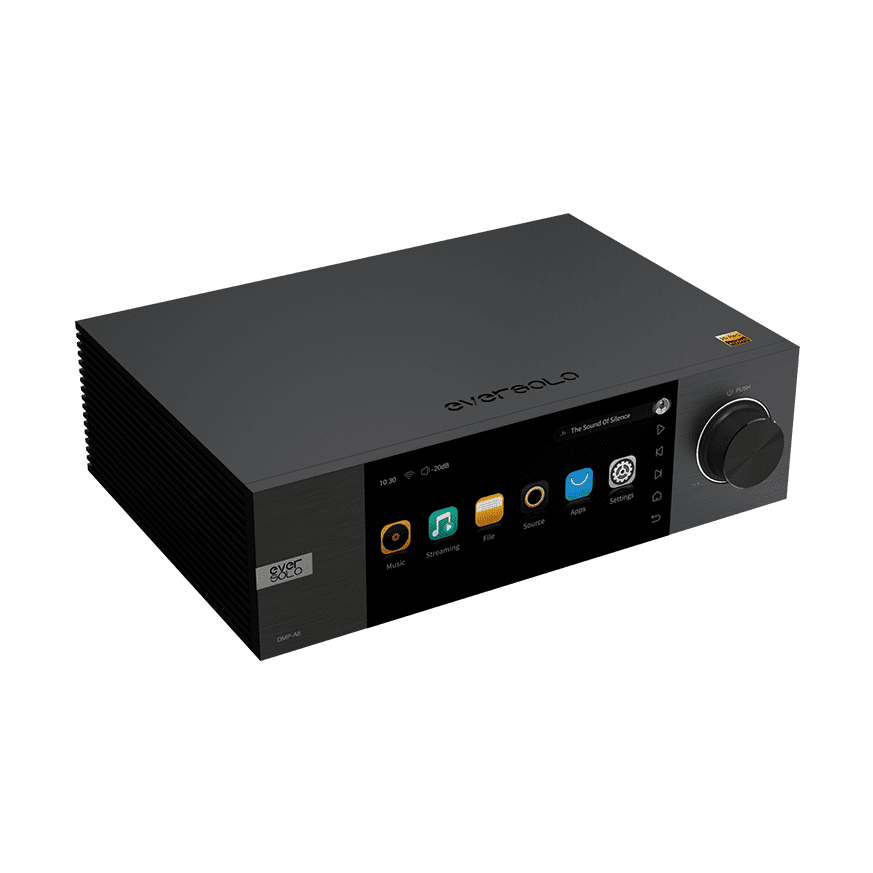 CONCLUSION
The DMP-A6 is simply superb value for money! Taking into account all the features, build quality, and sound it will be the perfect digital front-end for many people's systems. The sound is neutral, flat, and clean, and it doesn't lack dynamics or punch. There is also no harshness to the sound. This makes it fit into most systems with ease, but it may not be to everyone's taste and if this is the case you can always run it into the DAC of your choice.
There are a few bugs that some people have reported, such as slow loading of album artwork when playing from an SSD and the app crashing from time to time. This is still quite new to the market and there are still frequent firmware updates which will bring fixes to these issues in time but, personally, running it mostly as a Roon endpoint I didn't experience any issues.
Eversolo has made an excellent streamer with well-implemented ESS DAC chips and an excellent pre-amp stage. The design of the streamer, and the layout of the menus are excellent and it really is a very impressive device for the money.
AT A GLANCE
Build Quality:
It may be another black box, but the display looks incredible and it is very well put together
Sound Quality:
Clean, crisp, and detailed sound with a slightly forward presentation. It's not overly analytical but is neutral sounding overall
Value For Money:
For what you get, the DMP-A6 is extremely good value for money
We Loved:
Lovely layout with an excellent screen and neutral sound signature
Flexibility and functionality are superb
We Didn't Love So Much:
Some minor bugs to smooth out with future firmware
Not for those who want a slightly more forgiving and natural-sounding device
Elevator Pitch Review: If you want a clean-sounding digital front end for your system, the DMP-A6 is hard not to recommend. It's a budget-friendly yet featured-packed streamer with an incredibly controlled and detailed sound signature.
Price:  £759
Oscar Stewart