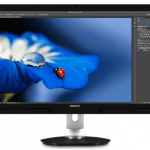 MMD, the leading technology company and brand license partner for Philips Monitors, announces a new display with UltraClear 5K resolution – the first 5K display in the line-up.
With 14.7 million pixels (5,120 x 2,880), the Philips 275P4VYKEB display has 5K resolution. That's packing four times as many pixels as Quad HD, and over 50 percent more than Ultra HD – delivering ultra-fine clarity and sharpness to amaze and delight even seasoned graphics professionals.
The new 27-inch display is also equipped with PerfectKolor Technology, which ensures factory-calibrated 99% Adobe RGB, 100% sRGB colour space and one billion colours.
Read the full story at GadgetyNews.